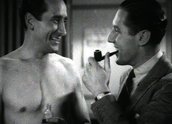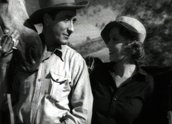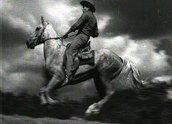 Rangle River (1936)
Synopsis
After 15 years in Europe, Marion Hastings (Margaret Dare) returns to her father's cattle property in western Queensland to help save it. Her ailing father (George Bryant) has no idea why his river is drying up. Marion is greeted coldly by her father's right hand man, Dick Drake (Victor Jory), who resents her expensive tastes, but she wins him over. An English house guest, Reggie Mannister (Robert Coote) discovers the cause of the water shortage. The villainous neighbour, Donald Lawton (Cecil Perry) has secretly dammed the river. Marion and Reggie almost drown in the final showdown.
Curator's notes
The dominance of Hollywood films in the Australian market goes back a long way, and it has been controversial for all of that time. Rangle River comes directly out of that controversy and shows the limits of trying to enforce one type of solution. The story was written by Zane Grey, the famous writer of pulp American westerns, during a fishing trip to Australia in 1935. It's basically a western about a fight for territory – the great theme of the genre – with Australian accents and setting. Charles and Elsa Chauvel adapted Grey's story for the production (uncredited), which was an equal partnership between National Studios, operators of the Pagewood Studio in Sydney, an Australian company, and the Australian branch of Columbia Pictures.
The film was a direct result of NSW government legislation, the Quota Act of 1935, which required exhibitors and distributors (most of which were Hollywood owned or controlled) to invest in, and show, a certain quota of Australian films for the next five years. The domination of Australian exhibition and distribution by American interests had been investigated by a royal commission in 1927, but little change came from its deliberations. The NSW government then passed its own act, designed to encourage local production with a quota system. Most of the American studios ignored the NSW Quota Act.
Rangle River was one of the few films made with American studio money, but the effect of that influence can be seen in the film's 'mid-pacific' identity crisis. The director, original writer and many crew were Americans. Victor Jory, who plays the overseer Dick Drake, was a burly American journeyman actor, rather than an acknowledged star, whose presence appears to be calculated solely to ease the film's path with American audiences. The only really interesting character is the eccentric upper class Englishman, Reggie Mannister, who is an Australian film cliché, rather than an American one. That suggests he was probably the creation of Charles and Elsa Chauvel's work on the script, rather than Zane Grey's original. Robert Coote, who plays him, delivers a fine performance, and most of the film's comedy. Clarence Badger, the veteran director, settled in Australia after Rangle River. He made only one more film, another Australian production – That Certain Something (1941). He died in Sydney in 1964.