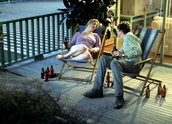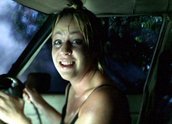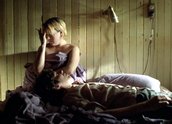 Praise (1998)
Synopsis
Gordon (Peter Fenton) works in a Brisbane bottle shop, but quits when they ask him to work fours days in a row. He begins a relationship with Cynthia (Sacha Horler), who has quit the same hotel. They both like drinking and smoking, even though he's an asthmatic and she has chronic eczema, due to allergies. She also likes sex, at every opportunity. Gordon is not very good at it, but he is swept along by her honesty and intensity. After two months, she's completely in love and he's exhausted. She falls pregnant and must abstain from sex after an operation for genital warts. On the night she's allowed to resume sex, he calls the relationship off. In the flop-house hotel where they live, they lie together in a sad embrace. Cynthia leaves and Gordon has an asthmatic seizure. A doctor warns him to quit smoking, but some habits are hard to break.
Curator's notes
Praise is an astonishingly frank film, one of the most intimate depictions of a relationship in Australian cinema. Of course, that in itself is a small field. Australian cinema in the early 1970s was briefly and powerfully preoccupied with sex, and infidelity is a reasonably common subject at any time, but films about a real love affair are relatively rare, especially ones that are this honest and painful.
Praise was the first published novel of Brisbane writer Andrew McGahan. It won the Vogel literary award in 1992, and became a best-seller. He adapted it for the screen, working with first time director John Curran. The film was made cheaply – largely in one set, the flop-house hotel room where Gordon and Cynthia lock onto each other – but with great energy and commitment. The sex is frequent and vigorous, often depicted with dry humour, rather than romance, but the intimacy comes between the bouts of rutting. Sex for Cynthia is an absence of pain; for Gordon it's more like an anxiety attack. In repose she becomes tender and playfully affectionate and he is almost able to open up to his feelings.
The film depicts two lost young people at a particular age and stage – they have found no role in life, no work that they can enjoy, and no network to be part of. Most of what they indulge in is bad for their health, but self-destruction seems like a job with these two – and with the other people who live in the hotel. Alcohol and tobacco, acid and heroin, sex and oblivion. It's like a grungy version of Last Tango in Paris, only it's in Brisbane and neither of them looks like a movie star. That's part of what makes it fresh – the performances are very raw and real and unselfconscious. There are no sheets placed artfully across body parts for decorum. That is not necessary when two people are alone in a room; that's how intimate the film feels. Curran achieves that partly by keeping the camera still for long periods, and avoiding full close-ups, except on two or three occasions. He wants us to see Cynthia as Gordon sees her, and vice versa. It's a highly controlled piece of filmmaking, in which we're rarely aware of the formal rigour, because there's always so much drama between Gordon and Cynthia.