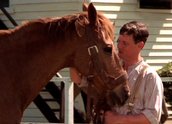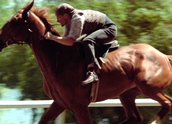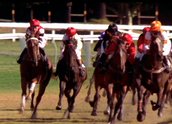 Phar Lap (1983)
Synopsis
The great racehorse Phar Lap dies in the arms of his strapper, Tommy Woodcock (Tom Burlinson), in Agua Caliente, Mexico, in 1932. Australia mourns his loss, amid suspicions of foul play. Five years earlier, a scrawny colt with facial warts is lowered onto a dock in Sydney. He has been bought sight unseen from a New Zealand catalogue. The buyer, Dave Davis (Ron Liebman), is furious. He tells his trainer, Harry Telford (Martin Vaughan), to sell the horse. Telford makes a deal to train the horse and pay his costs for three years, in return for two-thirds of his winnings. At his stables, the young strapper Tommy Woodcock takes an instant liking to the big red horse. He protests when Telford works the horse extra hard, to cure him of 'laziness'. Telford sacks the strapper, but has to bring him back when Phar Lap refuses to eat. Phar Lap is terrible in his first races, until Woodcock realises the horse likes to come from behind. He persists with the horse he calls 'Bobby', while other trainers jeer.
As the Great Depression hits Australia, Phar Lap starts to win, saving Telford from bankruptcy. Davis begins to take an interest again, but Telford is reluctant to be part of Davis's shady betting schemes. Davis persuades the trainer to scratch him from the Caulfield Cup, so that Davis can win a fortune on the Melbourne Cup. Gangsters try to shoot the horse in the street. Woodcock and Phar Lap hide out on a stud outside Melbourne. They arrive late at Flemington Racecourse on Cup day, to the cheers of a besotted crowd. Phar Lap has become the people's horse and the bookies' nightmare. When he wins the 1930 Melbourne Cup, the snobs at the Victorian Racing Club decide to slow him down with more weight. Telford re-negotiates his agreement with Davis. Telford's new horse stud outside Melbourne is a constant drain on funds. Woodcock clashes with his boss again; he's working the champion too hard, to pay for a stable full of dud horses.
Phar Lap starts in the 1931 Melbourne Cup carrying an unprecedented weight. Woodcock fears it will kill him, because he won't give up. The horse finishes eighth, and the crowd turns angrily on the Victorian Racing Club committee. Davis accepts an offer to enter Phar Lap in a special match race for the biggest prize money ever offered in North America. Tommy Woodcock goes with him, as trainer. At Agua Caliente racetrack in northern Mexico, Phar Lap becomes lame with a split hoof. He wins anyway, with blood streaming from the hoof. A few days later, the horse sickens and dies, in suspicious circumstances. The story ends where it began, with a nation in mourning.
Curator's notes
A movie about Phar Lap was as inevitable as a movie about Gallipoli, given the Australian public's appetite for patriotic history in the early 1980s. It is perhaps more surprising that both would be written by an avowedly political playwright like David Williamson, although he had written about sport in Australia's culture in his hit play, The Club, which Bruce Beresford filmed in 1980. Gallipoli (1981) was also partly concerned with sport – the two young men are runners before they go off to war. In fact, Phar Lap is also a political movie, as well as a highly entertaining movie about a horse.
Much of the film is concerned with money rather than just the horse. The sentimental bond between Tommy Woodcock and the big red 'Bobby' stands as one pillar of the story, setting up a relationship based on love and honesty. Every other relationship in the film is more or less concerned with money. Telford has to pay the horse's costs, and it almost breaks him; Mrs Telford (Celia de Burgh) constantly urges him to dump the horse, because he's costing too much money. Davis regards his racing interests as an investment, a way to make shady bets; Telford races the horse too hard in order to milk him for cash to pay for his farm; the VRC officials persecute the horse because an animal that good is bad for the bookies; someone eventually kills him for the same reason – although the film is careful not to overstate the case that Phar Lap was poisoned (recent tests on the horse's mane hairs suggest that he ingested a massive amount of arsenic in the hours before his death, the source of which is still unknown).
No one in the film except Tommy Woodcock – and to some extent Bea Davis (Judy Morris), wife of Dave Davis – actually cares about the horse's wellbeing. He's just a cog in the manifestly corrupt business of horseracing, in which everyone, including the officials, is on the take. In fact, Williamson reserves a special scorn for the officials, especially Lachlan McKinnon, head of the VRC, who's played by Vincent Ball. McKinnon isn't just a snob, he's an anti-Semite, as is made clear in a scene in which he describes Davis as 'a pushy little Jew'. Williamson has always written with an acute sense of class consciousness and Phar Lap is partly a story about the persecution of a little Aussie battler by the ruling classes – even if the horse was born and bred in New Zealand. This is not inaccurate: Phar Lap's place in the Australian consciousness is ultimately connected with the times in which he raced. A horse that could be backed to win at every start was always going to be popular with punters; that horse becomes a saviour for some people in the Great Depression. Even people who never made a bet loved the idea of Phar Lap, because he helped the spirits of a country in need of heroes.
The film is well constructed by director Simon Wincer – both as a folkloric tale of a young man's bond with a special horse and as an exciting spectacle. There are a couple of magically charged moments, such as in clip three when Tommy Woodcock runs Phar Lap onto the track at Flemington for the 1930 Melbourne Cup. He and Phar Lap have been hiding for a few days after some gangsters tried to shoot them in the street. They are late for the start, and the film captures genuine excitement in the arrival. Tom Burlinson was already strongly associated with horses in the public mind in 1983. He starred a year earlier in The Man from Snowy River (1982), a huge popular hit. There's a little of that film's hyperbole in Phar Lap, especially when Simon Wincer is trying to suggest the depths of the bond between man and horse, but Phar Lap is just as clearly a film about people who care very little about the horse. If Gallipoli (1981) was partly a film about Australian innocents slaughtered by the ruthlessness of British generals in the First World War, Phar Lap brings some of that ruthlessness closer to home.