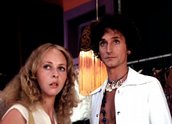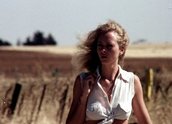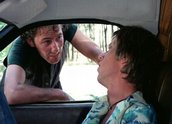 Oz – A Rock 'n' Roll Road Movie (1976)
Synopsis
Dorothy (Joy Dunstan) wakes up in the strange land of Oz after a car crash. The 'Good Fairy' (Robin Ramsey) tells her she should go to the city, to see the last performance of a beautiful glam-rock singer, The Wizard (Graham Matters). On the way, she meets an innocent surfie (Bruce Spence), a heartless mechanic (Michael Carman) and a cowardly biker (Gary Waddell), while pursued by a murderous trucker (Ned Kelly).
Curator's notes
Chris Löfvén had come out of the experimental film scene in Melbourne in the 1960s and was heavily involved in the rock music scene. He started making films at age 10, and was well-known for his imaginative and entertaining rock clips (he did Eagle Rock for Daddy Cool in 1971). Oz — A Rock 'n' Roll Road Movie was his attempt to rework The Wizard of Oz for a mid-1970s youth audience.
Ross Wilson (from Daddy Cool) supervised the soundtrack, which dominates the film and, to a great extent, dictates the rhythms. The film has many charming moments of campy humour, courtesy of a good supporting cast, but it never quite develops an involving story. The film was not a great success with audiences in Australia and was cut by 15 minutes for its American release, under the title 20th Century Oz.