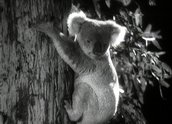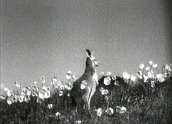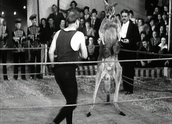 Orphan of the Wilderness (1936)
Synopsis
When hunters kill his mother, a young kangaroo becomes a family pet at the farm of Tom Henton (Brian Abbott). Tom's mother (Ethel Saker) names him Chut and rears him by hand. Tom teaches the animal to box, then gives him to a circus animal trainer, Shorty McGee (Harry Abdy). Tom's sweetheart Margot (Gwen Munro), who works for McGee, assures him that the animal won't be harmed – but McGee has a vicious side. When Chut injures the trainer and escapes, Tom and his friends rush to save the frightened Chut.
Curator's notes
Orphan of the Wilderness was originally conceived as a B-picture, the second half of the program, but its release was beefed up when the distributor saw its Christmas appeal. It was one of the first features to use Australian wildlife as its prime attraction, and it was popular. Chut became the most famous kangaroo in Australia until Skippy came along in a television series in the 1960s. The film was a school holiday favourite for many years, but it has not worn well. The repeated sequences of the hapless Chut having to box in a ring are difficult to watch – and indeed, there was some opposition to these sequences at the time. The film was banned in England for alleged cruelty to animals, even though the RSPCA in Australia had endorsed it. It doesn't help to know that Chut was living a life somewhat like that depicted in the film. Harry Abdy, who plays the cruel McGee, had a boxing kangaroo act that he had toured in the USA and Australia for some time, and Chut was his animal.
The most remarkable feature of the film is the opening sequence, where we see a mob of kangaroos living in an idyllic forest, with koalas and emus and dingoes. The forest was created from scratch in the Cinesound studio in Bondi by art director J Alan Kenyon. The kangaroos actually look like they've been there some time, and the studio setting allowed cameraman George Heath to capture some beautiful close-ups of the animals.
The graphic symbol of a boxing kangaroo became popular as 'nose-art' on aircraft flown by Australian airmen in the Second World War, and continues to be painted on RAAF aircraft. It was also the mascot for the Australian sailors who won the America's Cup yacht race in 1983. Contests between men and kangaroos were a frequent 'attraction' in travelling tent shows in Australia in the 19th century.