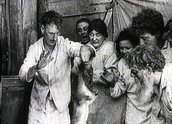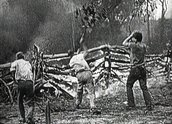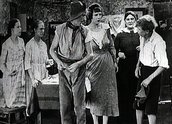 On Our Selection (1920)
Synopsis
Murtagh Joseph Rudd (Percy Walshe), known as Dad, and his son Dave (Tal Ordell) finish a bark hut on their newly established 'selection' of virgin bush. The rest of the family arrive and get to work, clearing the land by hand and planting a first crop of corn. The challenges include wildlife in their beds and no money to buy a horse, but their hard work pays off. In a year or two, the Rudds have a working farm and a more comfortable home, thanks to the domestic labours of Mrs Rudd (Beatrice Esmond). A bushfire and several years of drought impoverish them, but they hold on against all adversity.
When Kate Rudd (Evelyn Johnson) returns from her job teaching in the city, she falls for an eligible young farmer, Sandy Taylor (Arthur Greenaway). Dave and his sister Sarah (Charlotte Beaumont) also find sweethearts, although Dad tries to shoot one of them. Kate's wedding allows all grudges to be forgotten.
Curator's notes
On Our Selection is a landmark of the silent era in Australian cinema, and one of the key films in the career of Raymond Longford, the greatest director of that period. It was made a year after his triumph with The Sentimental Bloke (1919) and it is further evidence of how advanced and ambitious Longford's technique was, especially in the pursuit of naturalistic screen acting. Longford had trained as an actor – after an eventful youth as a sailor and in the Boer War – but his first films followed the silent screen conventions of melodramatic and sentimental gesture.
That changed with The Sentimental Bloke and On Our Selection, in which Longford strove for more realism in casting, and less 'acting' in performance. He was quoted at the time as saying, 'I'm making an Australian picture and I want the people in it to be real Australians. Now your average Australian is the most casual person under the sun – so if I put the players through their parts over and over again, worrying them, striving to perfect them, they might do good work, but they wouldn't look like Australians. They'd merely be actors, perfectly conscious that they were acting. My way is to let them know the action I want and allow them to go right ahead with it. For a picture like On Our Selection, in which it is absolutely necessary that the characters look natural, I think that's the best course'. One reason he thought it 'absolutely necessary' was because the comic 'hayseed' caricatures of Dad and Dave had already taken firm hold in Australian culture, and Longford disliked the stereotypes.
The stories of Steele Rudd – the pen name of Arthur Hoey Davis – had been first published in The Bulletin from 1895, and in book form in 1899. Bert Bailey and Edmund Duggan had had major success with a broad stage comedy in 1912 by accentuating the 'hayseed' caricatures. Longford set out to undo that popular conception of 'backblocks idiots' with the more heroic – if still humorous – depiction of a family struggling against all the adversity that was in the original stories, and which Longford himself had experience of, as a younger man. The bushfire and drought scenes are very real in this film, as are the scenes of back-breaking labour. There's still an element of gormlessness about some of the characters, but nothing like as much as in the 1932 remake by Ken G Hall, in which Bert Bailey played his stage 'Dad' again, or in Beaumont Smith's 'Hayseeds' series.
It's also possible that Longford felt he was making a film for the 'new battlers' of the day, the 37,000 returned soldiers given land after the First World War as 'soldier settlers'. They had already begun to fail as farmers by 1920, when the film was being made. On Our Selection, though set in an earlier time, can certainly be read as a statement of solidarity, although whether that was intended by Longford is hard to know. It's also possible to see it as a metaphor for Longford's own struggle against 'the combine', the combination of movie companies that had sacked him in 1913 and shut down a large part of the then prolific Australian film industry. Longford by 1920 had been harassed continuously by the heads of the combine, who attempted to frustrate his desire to make films at every opportunity (see Australian Cinema, The First Eighty Years, by Shirley and Adams, for an interesting account of these skirmishes). On Our Selection celebrates the pioneering individualism that Longford saw in his own battles with big business. In that sense, it's partly a self-portrait.