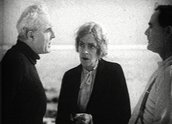 Mystery Island (1937)
Synopsis
An inter-island steamer bound for Noumea is wrecked on an island reef during a storm. The survivors include an Australian detective and a killer, whose identities are known only to the captain (William Lane-Bayliff), but he is now suffering a severe concussion. As the passengers erect shelters and wait for rescue, fights break out between the suspicious survivors.
Curator's notes
Mystery Island is a largely forgettable film, except for two factors. It was shot almost entirely in an exotic location, one of the Admiralty islets off Lord Howe Island, and two of the principal actors disappeared at sea, after shooting was complete.
According to Australian Film 1900-1977, by Andrew Pike and Ross Cooper, a production crew of 20 left Sydney by boat in September 1936 for a month's shooting on the islet. There were many difficulties, including the loss of 2000 feet of exposed film in rough seas. Early in October, Brian Abbot (who played Carthew) and Leslie Hay-Simpson, who played Packer (under his stage name of Desmond Hay) set off to sail back to Sydney in a 16-foot open boat. They were never seen again – a much greater mystery than the one in the film.
Hay-Simpson had done one other film, a lacklustre retelling of the story of Ned Kelly called When the Kellys Rode, but he was seen as a promising young actor. Unfortunately, Mystery Island didn't give him a lot to do. It's an unlikely story, directed with leaden hands by JA Lipman. The island location is spectacular. Which is more than can be said for the script and performances. Shooting in such an inaccessible place was very unusual, but it's the only aspect of the film that adds any sense of authenticity.