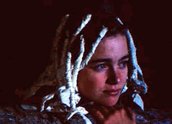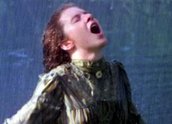 My Brilliant Career (1979)
Synopsis
During the drought of 1898, headstrong and vivacious Sybylla Melvyn (Judy Davis) dreams of escaping the drudgery of farm life for a career as a writer. On an extended visit to her aristocratic grandmother (Aileen Britton), she meets Harry Beecham (Sam Neill), a well-to-do grazier. Sybylla must decide if love will interrupt her plans for a brilliant career.
Curator's notes
My Brilliant Career introduced two startling new talents to the Australian public. It was the first feature of Australian Film Television and Radio School (AFTRS) graduate Gillian Armstrong, one of the first women to break into feature directing in the 1970s, and the first time most Australians had seen the astonishingly talented Judy Davis, who had recently graduated from the National Institute of Dramatic Art (NIDA), in Sydney.
The timing was perfect, as was the choice of subject. Miles Franklin's semi-autobiographical novel, published in Edinburgh in 1901, was a ground-breaking feminist text from an earlier era that perfectly dramatised the concerns of many women in the late 1970s. The period setting only served to underline the idea that the dilemmas had not changed that much for modern women. Career or marriage was still a difficult choice, and Sybylla Melvyn presented a powerful role model – a feminist warrior, in the same year that produced a masculine fantasy in the road warrior, Mad Max.
Judy Davis's performance is a large part of what audiences responded to – Sybylla's blazing self–assurance, her courage and youthful anger, her refusal to settle for anything less than the moon. The film's cinematography has great contrast – the flat, barren landscapes of the Melvyn family's farm in the midst of drought gives way to green and verdant homesteads of the landed gentry.
Cinematographer Don McAlpine gives some of these scenes an impressionist look, emphasising the sense of privilege. Armstrong showed a great pictorial sophistication, a kind of visual sensuality. The film remains one of the high points of the 'new wave' of Australian cinema in the 1970s and a leading influence on women who followed in film in the 80s and 90s.