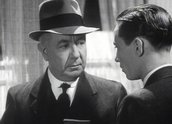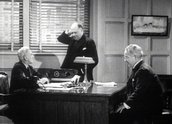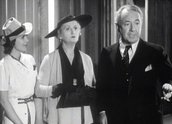 Mr Chedworth Steps Out (1939)
Synopsis
George Chedworth (Cecil Kellaway) lives a timid existence, caught between a nagging wife (Rita Pauncefort) and the pressures of a meagre wage. His eldest son, Arthur (Peter Finch), has got into debt with a bookmaker, so Mr Chedworth bails him out. The bookie talks George into a worthless wager on two long-shot horses, as a way of relieving him of a few more pounds. Soon after, Mr Chedworth learns he is to be laid off from the firm where he has worked for 24 years. His employers offer him a job as caretaker in a disused factory, at the basic wage. In a secret room at the factory, Mr Chedworth discovers a bag full of money and an old printing press. He hides the money in his shed, while he decides what to do. That night, he realises that both horses have won. He is £1,000 richer.
Mrs Chedworth soon moves the family to a new house, where she can begin her climb up the social ladder. After a long lunch, Mr Chedworth spends £400 on some gold shares, sold at an inflated price by his son's shady employer Leon Fencott (Sidney Wheeler). Fencott is the criminal boss behind the forged bank notes. When Arthur Chedworth inadvertently passes one of the forged notes to his boss, Fencott's men abduct his father. Chedworth senior is now considerably richer, after the gold shares have quadrupled in value. A federal agent, Brian Carford (James Raglan), has been watching Mr Chedworth, to see if he's the forger. Carford foils the criminal syndicate's plan, just as they're about to kill Mr Chedworth.
Curator's notes
Mr Chedworth Steps Out has all the usual elements of a Cinesound entertainment – four or five plotlines, a master villain, even a couple of songs courtesy of Jean Hatton playing Susie Chedworth – but it has one element that lifts it above the pack – Cecil Kellaway. Kellaway was probably the best actor that Ken G Hall ever worked with, and that is no disrespect to the considerable talents of Bert Bailey, and Cecil's brother Alec (who became a fixture of the later movies, although not this one). Cecil was already working in Hollywood by 1937, and doing well, but he returned to Australia for this role, which was developed for him after the success of It Isn't Done (1937) a year earlier. His performance as the little man who learns to assert himself is one of the best in all the Cinesound films, and Ken Hall's direction is a large part of that success.
The film is put together with great care and confidence, rather than the haste that mars some of Hall's work. Kellaway was playing Hall's favourite type of hero, a nobody who becomes a somebody. He was similar to the man he plays in It Isn't Done (1937) but more downtrodden, and thus capable of more anger and passion. Once again, the film has the feel of a Frank Capra film, but this time, Kellaway is able to give us a much more shaded performance, tinged with bitterness and a hint of bile.
Whether the film remains a comedy is debatable. Rita Pauncefort's portrayal of Mrs Chedworth as a nagging social climber and spendthrift is beyond satire, heading for something more caustic. The undeclared class warfare in a lot of Ken Hall's films becomes full-scale attack in this film – Mrs Chedworth is a nouveau riche shrew, the object of a special scorn that's not so much humorous as contemptuous. Even Mr Chedworth feels it, when he declares to his new friend Carford that she ought to be taught a lesson. When they hire a broken-down actor to play a bailiff who humiliates her in the middle of her cocktail party, the humour becomes cruel. Hall does not write about this film in any detail in his admittedly thin autobiography, Directed by Ken G Hall (1977), but the depiction of Mrs Chedworth feels like the settling of some deep personal score.
Mr Chedworth Steps Out was adapted from a novel, Mr Chedworth Hits Out (1936), by Francis Morton Howard, a prolific English playwright and novelist of the period. Frank Harvey adapted the book and it may have been his idea, given that he would likely have known of Howard's plays when he was working as an actor and playwright himself in England.