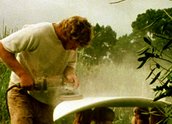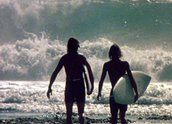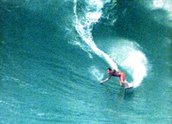 Morning of the Earth (1972)
Synopsis
An opening title describes the film's approach – 'A fantasy of surfers living in three unspoiled lands and playing in nature's oceans'. The three lands are Australia, Bali in Indonesia, and Hawaii. The surfers were many of the best in the world in 1972. Each surfing sequence is edited to the duration of one song, and each song adds to the film's creation of a surfing ethos.
Curator's notes
Morning of the Earth was a phenomenon in Australia in 1972, partly because the soundtrack was a big hit with youth. The film itself became the most successful surf movie up to that time, grossing more than $200,000 in its Australian release. In his book Surfmovies, Albie Thoms says it inspired a new generation of surfers, including Pam Burridge, to take up the sport.
Part of the film's attraction is the way that director Albert Falzon creates a romantic mythology around the act of surfing. 'Soul surfing' (as opposed to competitive surfing) was not a new concept, or debate, but Morning of the Earth offered a kind of visual manifesto for its would-be followers. The essential elements included aspects of counter-culture, such as living simply and sustainably, getting back to nature, but also making your own boards and finding uncrowded waves. Falzon shows groups of surfers pursuing the ideals, living in tree-houses or dilapidated farm houses, with a couple of cows for company, and surfing endless long breaks with perfect late-afternoon light.
The songs, by both popular and more underground musicians, underlined the ethos with lyrics about dropping out and following your desires. The fact that many of the surfers in the film were competition surfers, pursuing fame and fortune with both hands and feet, did not seem to undermine the film's message. Falzon's camera work is exceptional, especially in its use of long lenses. The film features some sublime sequences, where the combination of music, light, water and graceful surfer is inspiring.