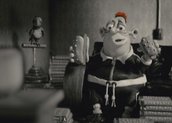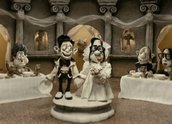 Mary and Max (2009)
Synopsis
A tale of friendship between two unlikely penpals: plump, myopic little Mary Daisy Dinkle (voiced by Bethany Whitmore and then Toni Collette) growing up in suburban Melbourne and Max Jerry Horovitz (Philip Seymour Hoffman), an obese, friendless New York man with Asperger's syndrome. Lonely and unloved, Mary writes to Max with many questions about life, causing him a few anxiety attacks. But Max recovers and answers Mary with kindness and wisdom. They share a love for chocolate and The Noblets television show.
As time passes, and their letters continue to fly between two continents, Mary grows taller as Max grows wider. Max battles with his anxious mind, obesity and disconnectedness. Mary becomes a confident academic, specialising in mental disability, and her thesis on Asperger's syndrome, based on Max, is a huge success. But this shatters Max's fragile state, and he responds by trashing his typewriter, devastating Mary. She sends an apology to Max and, in a gesture of forgiveness, he mails her his prized collection of Noblets characters. Finally, Mary makes the trip to New York to meet Max in person.
Curator's notes
The depth and allure of Mary and Max transcend the film's medium of claymation. After only a few minutes of watching this tale of two penpals, you are no longer aware that it is a miniature world, peopled with blobs of plasticine. It is simply a drama of two people, separated by age and distance but united in their loneliness, gentleness and candid friendship. Though Mary has most of her life before her, compared to the older Max, both grow in understanding through their letters (and with a little help from Max's shrink, Dr Bernard Hazelhoff).
The monochrome tonality of the film, warmer in Mary's Melbourne and stark in Max's New York, creates a melancholy mood relieved by startling red details (Vera's lipstick, the pompom on Max's yarmulke). In content, the loneliness and trauma of Mary and Max's lives are perfectly balanced by the signature humour of writer-director Adam Elliot: Mary's shock in finding that her husband Damien has abandoned her for Desmond, a farmer in New Zealand; Max's air conditioner falling to crush a hapless mime; Mary's kleptomaniac mother Vera (voiced by Renée Geyer) 'testing the sherry', which finally leads to her demise, are all unforgettable comic scenes. Most poignant, and equally unforgettable, is the scene which reduced me to tears: after being deeply hurt by her book, Max writes to Mary that he forgives her because she is imperfect, because we are all imperfect. 'You are my best friend, you are my only friend.' Max rises above his hurt and truly connects with Mary in this letter, which proves to be Mary's lifesaver.
The sonorous voice of Philip Seymour Hoffman as Max is a huge contribution to this film, as is the smoky voice of Renée Geyer as Vera and, not least, the absorbing narration by Barry Humphries.
With Mary and Max Elliot creates storytelling magic on a grand scale. He has truly evolved beyond his tragicomic series Uncle (1996), Cousin (1998) and Brother (1999), and even the Oscar-winning Harvie Krumpet (2003). Elliot captivates us with a poignant drama of people that are as flawed and unique as they are deeply and touchingly human. Mary and Max is a labour of love and integrity. The siren call of Hollywood did not seduce Elliot; he could have made a fortune if he had been willing to make cheerful entertainment for studio films, television and advertisements. He says, 'I gravitate towards tricky subject matter, things that are dark and challenging. I am never going to come up with a talking fish called Nemo'.
Mary and Max took almost five years from script to screen, and 57 weeks to animate and shoot. Six animation teams worked under Elliot's direction in a converted Melbourne factory. A production crew of 50 produced an average of two-and-a-half minutes of animation a week. Everything you see in the film has been manipulated by hand. Two hundred and twelve puppets were made for the film from a variety of polymers, clays, plastics and metals. The complex puppets had fully articulated ball and socket armatures. There were up to a dozen multiples of the lead characters. One hundred and thirty three separate sets were constructed for the film. Four hundred and seventy five miniature props were made, everything from a miniature hand-blown wine glass to a fully functioning Underwood typewriter.
Mary and Max premiered as the opening night film at the 2009 Sundance Film Festival, an exceptional honour for an Australian production. It later won the award for Best Animated Feature at the Stuttgart Animation Festival, the Audience Award at the World Festival of Animated Film in Zagreb, Croatia, and shared the Grand Crystal Best Feature Award with Henry Selick's Coraline (2009) at the Annecy International Animation Festival in France, the leading international animation competition. Locally, the film has earned nominations for best film, screenplay and production design at the AFI Awards. It won the award for production design, and received nominations for best script, direction and music, at the IF Awards.