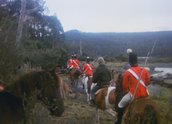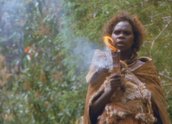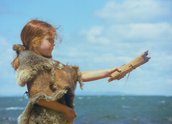 Manganinnie (1980)
Synopsis
In 1830 Edward Waterman (Phillip Hinton) and his family arrive in a remote part of Tasmania (or Van Diemen's Land, as it was then known). Waterman is pressured into helping British colonial forces carry out the Black Line – enforced removal of Aborigines from land near white settlements. Aboriginal woman Manganinnie (Mawuyul Yanthalawuy) survives a Black Line raid which claims the life of her husband, Meenopeekameena (Yunupingu). During a family outing in bushland, Waterman's young daughter Joanna (Anna Ralph) becomes separated from her family. Manganinnie, who has been hiding in the area, takes Joanna into the forest. Overcoming her initial mistrust of Manganinnie, Joanna joins her on a long journey in search of Manganinnie's people.
Curator's notes
Manganinnie was the first film produced by the Tasmanian Film Corporation, a short-lived agency which was dissolved following its second feature production, Save the Lady (1981). Based on the 1979 novel by Beth Roberts, Manganinnie was the first feature produced entirely in Tasmania and principally staffed by Tasmanians. Roberts, director John Honey and composer Peter Sculthorpe all hail from the island.
The backdrop to the story is one of the most shameful chapters in Australian history. Between 1828 and 1832 the colony of Van Diemen's Land was under martial law and engaged in the Black War, in which mass killings of Aborigines were reported. Part of the Black War campaign by the colonial government was the Black Line, a sweep through Aboriginal settlements aimed at forcing members of the Palawa (Tasmanian Aborigines) to live in a part of the Tasmanian peninsula adjoining the rest of the island (see First Australians – Episode 2, Her Will to Survive, 2008).
As Manganinnie opens, a reluctant Charles Waterman is told in no uncertain terms that he's expected to take part in the Black Line. As a result of the skirmish he participates in, Manganinnie is dispossessed and her husband murdered. By ironic circumstance it is Waterman's daughter, Joanna, who is 'adopted' by Manganinnie and taken on a journey in search of her missing tribe.
Magnificently photographed by Gary Hansen, the film suffers somewhat from not including subtitles and Joanna seems rather too capable of understanding Manganinnie's language, but its heart is undoubtedly in the right place. Though unable to show the true horror of the Black War or the Black Line by virtue of its 'G' (suitable for all ages) classification, Manganinnie at least partially succeeds in capturing what Beth Roberts stated as the novel's objective: 'I want the book to promote greater understanding about different nationalities and strengthen our bonds with the Aborigines'.
Fire is effectively used as motif and metaphor in the film. Manganinnie's survival depends on keeping a fire stick alight. When the fire is lost (see clip three) Joanna symbolically bridges the cultural and language divide by showing Manganinnie how to create fire with flint.
The story is narrated by the adult voice of Joanna (Elaine Mangan) and may dwell a little too long on beautiful landscapes and resolve danger too readily (Manganinnie's capture by an escaped convict and subsequent rescue by Joanna is a case in point). Nevertheless, its basic messages about mutual understanding and the loss of traditional ways of life are illuminating for the young audience it is primarily aimed at.
Though no clear consensus exists on whether or not the period depicted in Manganinnie constituted genocide or near-genocide, this gentle and visually stunning film reminds us of events which led to the end of the full-blood Palawa line in 1876 with the death of Trugernanner (Truganini).
Manganinnie was released in Australian cinemas on 15 August 1980. It was nominated for six AFI Awards in 1980: Best Film (Gilda Baracchi), Actress (Mawuyul Yanthalawuy), Directing (John Honey), Cinematography (Gary Hansen) and Costume Design (Graham Purcell), winning the award for Original Music (Peter Sculthorpe).
Secondary curator's notes
by
Liz McNiven
Manganinnie reflects Australia's attempt to come to terms with its black history and to acknowledge the traumas of its colonial past. Based on the 1979 novel by Beth Roberts, it is a gentle film about a harsh subject. It juxtaposes beauty and terror: Tasmania's imposing landscapes and its dark colonial history. The picturesque land and seascapes provide the backdrop for a horrific story of genocide set in the aftermath of the Black Drive of 1830.
This courageous film took the industry forward in casting Mawuyul Yathalawuy in a dignified lead role as Manganinnie. Yathalawuy speaks her own language throughout the film, and her lines are not subtitled. Her performance, however, trascends any language barriers and conveys great sentiment and meaning. The audience can feel the pain, the loss and the sorrow when she sits alone and mourns, realising the magnitude of the holocaust engulfing her peoples.
Narrated by the adult Joanna recounting her time in the bush with Manganinne, the film humanises and feminises the colonial history of Tasmania. The child and her family symbolise the goodness within the colonial society and present a stark contrast to many other early settlers. What Joanna learns based on her time spent with Manganinnie suggests a better way of relating to Aboriginal peoples and their cultural heritage.
With a young person in a lead role, this film is a great educational tool for children learning about Tasmanian history in the 1830s, and an important addition to the nation's audiovisual cultural heritage. In 1989 Beth Roberts wrote a sequel to Manganinnie, Magpie Boy, but the film industry has not broached the subject again.