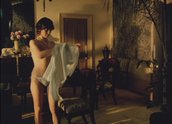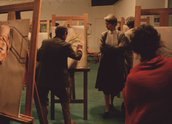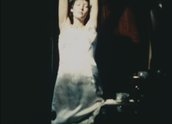 Man of Flowers (1983)
Synopsis
Charles Bremer (Norman Kaye), a retired, wealthy aesthete, regularly hires Lisa (Alyson Best), a young female artist's model, to strip for him to the soundtrack of a Donizetti aria. Charles writes letters to his dead mother, plays church organ, loves flowers, and attends drawing classes. Lisa meanwhile is having problems with her chauvinist, drug-abusing boyfriend David (Chris Haywood), a modernistic painter who keeps hitting her for money. As Charles and Lisa form a strong attachment that has nothing to do with sex, it becomes clear that the aggressive David presents a problem that needs to be solved.
Curator's notes
Man of Flowers is a significant Australian film of the early 1980s, achieving critical and audience success both in Australia and overseas and helping to further the prolific career of its Dutch-born director and co-writer, Paul Cox. The film's style – low on narrative drive, strong on character, visual poetry and intensity of feeling – owes much to the tradition of European auteur cinema yet displays a quirky humour that feels closer to Australian informality than the European theatre of the absurd.
Cox's previous film, Lonely Hearts (1981), had achieved success on the art-house circuit. It also starred Norman Kaye as a sensitive man with sexual issues, though in other respects the films are distinctively different. Like the earlier film, co-written with John Clarke, Cox worked with a screenwriting partner – this time Bob Ellis – known for his wit and colourful writing. This gives many of the supporting characters a levity that counter-balances the seriousness of the central character.
Where the later film advances over Lonely Hearts is in the confidence with which Cox deploys his cinematic imagination, especially in the stripping scene near the opening and the stunning final shot – both of them coups de cinema. In the latter, Kaye's Charles and three strangers are silhouetted from behind on a cliff top, gulls wheeling around them as they gaze over Port Phillip Bay to the sound of Donizetti (a shot that owed a direct debt to Belgian surrealist artist René Magritte, according to film academics Susan Dermody and Liz Jacka).
Man of Flowers was released in Australian cinemas on 22 September 1983. It also had a limited release in the US in December 1984. At the 1983 AFI Awards, Norman Kaye won Best Actor and the film also received nominations for Best Picture, Director, Original Screenplay and Cinematography (Yuri Sokol). At Spain's Valladolid Film Festival, Cox was the co-winner of the Golden Spike award.