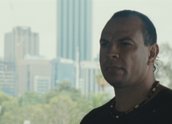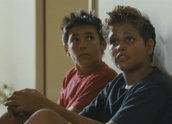 Mad Bastards (2011)
Synopsis
After visiting his brother in prison, TJ (Dean Daley-Jones) returns to the Kimberley region of Western Australia to try and reconnect with his teenage son, Bullet (Lucas Yeeda), who has been in trouble with the law. Local policeman Texas (Greg Tait), who is also Bullet's grandfather, sends him and other wayward boys to a to a diversionary culture camp run by a local elder and designed to reorientate the boys towards their cultural heritage.
TJ works hard to forge a meaningful relationship with his son but slips back into old angry patterns of behaviour and lashes out at Nella (Ngaire Pigram), Bullet's mum. Nella's father, Texas, drives TJ out to the floodplains, where the two men settle their grievance physically. Afterward Texas accepts TJ as part of his family and talks to the local men's group about his grandson and son-in-law.
Curator's notes
Mad Bastards is a realistic and hard-hitting film about rebuilding broken lives through the love of family, the strength of community and the practice of cultural responsibilities.
Director Brendan Fletcher, a non-Indigenous man from Sydney, met musicians and co-producers Alan and Stephen Pigram in Broome. He built up a relationship with them over several years while making music videos and documentaries about The Pigram Brothers, a band made up of Alan and Stephen and five of their siblings. After spending time in the Kimberley, Fletcher set out to make a film telling the stories of the 'mad bastards' of the region, and started writing a screenplay around them.
'Mad bastards' is a local expression that refers to men out of control, travelling down the wrong track, not respecting themselves or others. As Stephen Pigram explains in the film's press kit: 'They are brave to the point of being mad. We were all mad at some point, especially when we were young and full of stupidity because we'd been drinking.' The screenplay, written by Fletcher in collaboration with performers Dean Daley-Jones, Greg Tait and John Watson, highlights an alternate pathway, one that emphasises the importance of men looking after their families.
Mad Bastards draws on the lived experience of its largely non-professional cast to provide a raw authenticity rarely captured in the representation of Aboriginality on the big screen. As the film's press kit points out, 'the people in the lead roles brought their own lives to the story and basically play themselves'.
John Watson, who plays the Bush Camp Elder, actually runs a diversionary program for troubled youth out of his home in the remote bush community of Jarlmadangah. Greg Tait, who plays Texas, is a Halls Creek police officer in the Kimberley. Ngaire Pigram, daughter of Stephen Pigram, who plays Nella, was one of the few trained actors in the film. She graduated from the Western Australian Academy of Performing Arts in 2004.
Mad Bastards was released in Australian cinemas on 5 May 2011. It was nominated for the Grand Jury Prize (World Cinema – Dramatic) at the 2011 Sundance Film Festival. It was also nominated for five AACTA Awards in 2011 including: Best Picture, Original Screenplay, Sound (Phil Judd, Nick Emond, Johanna Emond, Les Fiddess, Jennifer Sochackyj and Beth Tredray), Young Actor (Lucas Yeeda) and the AFI Members' Choice Award.