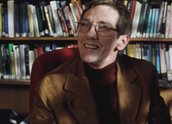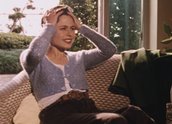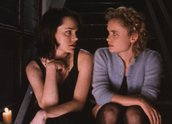 Love and Other Catastrophes (1996)
Synopsis
University film studies student Mia (Frances O'Connor) wants to follow her favourite lecturer to a different department, but she has only one day left to register. She becomes jealous when her lesbian lover, Danni (Radha Mitchell), stays out all night with another female student.
Mia's flatmate Alice (Alice Garner) is chronically behind with her cultural studies thesis (on Doris Day as feminist warrior) and wants to get to know Ari (Matthew Dyktynski), a pretentious, sexually self-assured student she serves in her part-time café job. Naïve, sexually nervous country boy Michael (Matt Day) searches for new accommodation after quitting his digs in disgust at his housemates' habits.
All five cross paths in a frantic series of 'catastrophes' before reaching a happy outcome.
Curator's notes
This low-budget directorial debut for Emma-Kate Croghan takes a breezily wacky look at the daily life and love dilemmas of a group of Melbourne university students. Avoiding pat Hollywood romantic comedy formulas, the film takes some of its inspiration from the rule-breaking informality of the early 1960s French nouvelle vague while retaining an Australian cheekiness.
One of its most significant achievements was bringing to public attention two then little-known female actors, Frances O'Connor and Radha Mitchell, who have gone on to enjoy significant local and international film careers.
While the film is based around comic exaggeration, a sense of authenticity can be detected behind many of its observations of student life. Croghan and her writing partners were still young enough when they made the film to vividly recall what it feels like to negotiate the daily upsets of student life – difficult house shares, obstreperous university bureaucrats, pretentious peers, bitter and twisted lecturers. This comes across in the film's crazier observations of campus life (Croghan had studied film at the University of Melbourne, as does O'Connor's character).
True to the requirements of comedy, the characters all make themselves look ridiculous as they deal with a handful of 'catastrophes'. That none of these will strike most onlookers as earth shattering is part of its charm. The film captures the sense that student years can be a sensitive time of life when even minor problems can affect those going through them with a peculiar intensity that in retrospect seems absurd.
An additional strength is the film's relaxed depiction of O'Connor and Mitchell's lesbian relationship as a normal part of late 20th century life, without feeling the need to make an issue out of it.
The film was produced on a low budget outside of the federal and state funding system but later gained funding from the Australian Film Commission to help with post-production. It was nominated for five AFI Awards: Best Picture, Actress (Frances O'Connor), Supporting Actress (Alice Garner), Original Screenplay (Yael Bergman, Emma-Kate Croghan and Helen Bandis) and Editing (Ken Sallows). Garner won a Film Critics' Circle of Australia award for best supporting actress.
Love and Other Catastrophes was released in Australian cinemas on 1 August 1996. It was also released in the US on 28 March 1997 and UK on 25 April 1997.