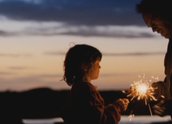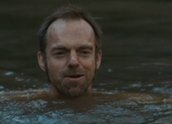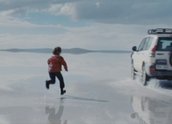 Last Ride (2009)
Synopsis
Kev (Hugo Weaving), a former convict on the run, and his 10-year-old son Chook (Tom Russell) get to know each other for the first and last time in this road movie set in South Australia. The pair's relationship deepens as their journey takes them through a variety of landscapes (from forest to salt lake) and settlements (from small towns to camping grounds) and Chook gradually discovers why Kev is on the run.
Curator's notes
One of the most immediately striking things about Last Ride is that it's a road movie presented as a mystery. This means it has an unconventional storytelling method for its genre. Unusually, what screenwriters call the 'inciting incident' – the event that precipitates a crisis and kicks off the story proper – has already happened before the film starts. That means viewers are initially not told why Kev and Chook are on the road, though we quickly realise that something is wrong (Kev tells an old flame they visit that they're heading for Adelaide but not to tell anyone where they're going). Only gradually are we given the chance to piece together the backstory through drops of information that trickle through.
At the heart of the story is the relationship between Kev and his son. Kev has two sides to his personality, the violent criminal-harsh father and the tender, doting dad. This duality runs throughout the film so that we're never quite sure which side will dominate at any given moment.
Weaving, one of Australia's best-known actors, gives a thoroughly memorable performance as Kev, lending both the dark and light sides of his character great emotional authenticity. But the film would not work nearly as well as it does without a strong child actor as his offsider, a brief that Tom Russell fulfills admirably.
Adapted by experienced screenwriter Mac Gudgeon from Denise Young's novel, the film represents a distinctive and promising feature debut for Glendyn Ivin, whose Cracker Bag (2003) won the Cannes Film Festival's short film Palme d'Or. Ivin directs with an unusually keen eye. This is above all a cinematic feature, one that communicates on the visual level throughout, including a breathtaking sequence on a salt lake. A billabong motif and the film's dramatic finale might be fleeting, even subconscious nods to another Australian outlaw, from the folk anthem Waltzing Matilda (1895).
Yet the understatement in the storytelling, and the desire to avoid spoonfeeding the viewer, seems to betray the distant influence of some of cinema's more demanding filmmakers. Perhaps it was no coincidence that Last Ride won Ivin the Best New Narrative Director award at the 2009 Middle East International Film Festival in Abu Dhabi by a jury headed by Iranian master Abbas Kiarostami.
Last Ride premiered at the 2009 Sydney Film Festival and was released in Australian cinemas on 2 July 2009. Hugo Weaving was nominated for Best Actor at the 2009 AFI and IF Awards. The film also received AFI nominations for Cinematography (Greig Fraser) and Young Actor (Tom Russell).