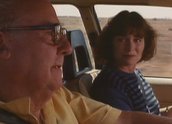 The Last Days of Chez Nous (1992)
Synopsis
After another failed romance, Vicki (Kerry Fox) returns from Europe to the rambling Sydney house of her older sister Beth (Lisa Harrow), an established writer. Vicki is pregnant, and unsure of her direction. Beth's teenage daughter Annie (Miranda Otto) is overjoyed to see her but Beth's French partner JP (Bruno Ganz) thinks Vicki is lazy and feckless. Beth urges her sister to have an abortion, which she does, in secret, but immediately regrets.
She is still grieving when Beth takes off on a road trip into the desert with her father (Bill Hunter), in an attempt to resolve their ongoing conflict. Vicki and JP begin an affair while she's away and Annie falls in love with the young lodger (Kiri Paramore). When Beth returns, JP tells her the truth. The lives of all the characters are changed forever, as Vicki and JP move out. Beth resolves to move on with her life.
Curator's notes
The Last Days of Chez Nous was one of the most interesting films of the early 1990s. The script by Helen Garner juggles some weighty concerns, but the forced jocularity of the opening scenes, in which everyone seems to dance and sing a lot, put some viewers off. The scenes are meant to jangle as a sign of trouble in store. It's partly a film about feminism in transition. Lisa Harrow's character is a different kind of feminist than her younger sister – Beth is perhaps more aware of the ground that has been won and less concerned than her sister about what may have been lost.
Vicki's abortion dominates the first half of the film and we see the gulf in attitudes when Beth tells Vicki she has done the right thing (and the same thing Beth once did). Beth has doubts, as becomes clear later. The second half of the film concerns infidelity – Vicki betrays her own sister, in her sister's bed. It's clear that JP wants it to happen, to create the crisis he needs to escape his relationship with Beth. He has had an affair before this, with a young woman whom he liked because she was 'not always speaking about her rights'. He's tired of Beth's warrior feminism.
Vicki just wants love at all costs, and to take something from the sister who has always overshadowed her. One of the strengths of Garner's script is the density of character and ambition, the sense of how turbulent this 'fun-loving' household is. One of its questions is about the problem of expressing emotion – a relatively common theme in modern Australian cinema, although usually applied only to male characters (see Somersault, 2004; Erskineville Kings, 1999; and Kenny, 2006).
The road trip shows us Beth's inheritance from her father, played gruffly by Bill Hunter – an emotional toughness bordering on callousness. This may be what drives her to write; she's forever scribbling notes in her notebooks, storing emotions, rather than inhabiting them. At the same time, they surface occasionally in great flooding tides, where she retires to sob in her bed.
Beth is at least concerned with interpreting her emotions. Vicki appears only to experience them, without much desire for reflection. She wants to be a writer, but she's not prepared to do the work. Some critics saw a link in Gillian Armstrong's work and the fact that Beth and Sybilla in My Brilliant Career (1979) are both writers. Both end up alone at the end of the film, and both are painfully aware of the choices they've had to make, but the later film offers a far more nuanced and subtle view of a woman's heart. Indeed, it's about three women, because Beth's daughter Annie, who's beautifully played by the young Miranda Otto, is shown entering the adult world, through her first love affair.
The Last Days of Chez Nous was released in Australian cinemas on 8 October 1992 and in the US (though Fine Line Pictures) and UK in February 1993. It was selected by the Berlin Film Festival and Lisa Harrow won the 1992 AFI Award for Best Actress for her performance. The film was nominated for eleven AFI Awards in total, including Best Film, Director, Actor (Ganz), Supporting Actor (Hunter), Supporting Actress (Otto), Screenplay (Original or Adapted), Cinematography (Geoffrey Simpson), Editing (Nicholas Beauman), Original Music (Paul Grabowsky) and Production Design (Janet Patterson).