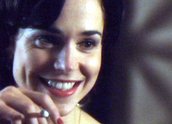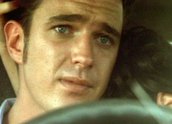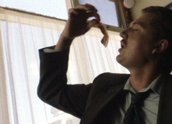 Kiss or Kill (1997)
Synopsis
Young lovers Nikki (Frances O'Connor) and Al (Matt Day) are confidence tricksters. She lures men to her hotel room where she drugs them and with Al's help steals their money, but the scam goes sour in Adelaide when she accidentally kills a victim. They discover a video cassette that suggests the man had been blackmailing an ex-football star named Zipper Doyle (Barry Langrishe) for paedophile activities. The couple drive into the South Australian outback, planning to get to Perth across the Nullarbor Desert, but are soon pursued by Doyle – anxious to get his hands on the tape – and bungling detectives Hummer and Crean (Chris Haywood and Andrew S Gilbert).
Keeping one step ahead of their pursuers, the couple encounter eccentrics in the desert including a motel owner (Max Cullen) who proudly shows off his fondue-making skills, and a man (Barry Otto) living with his wife on a 1950s nuclear testing ground. The motel owner is found dead the morning after the couple has dined with him. Later, the man and wife at the nuclear testing ground are discovered in bed with their throats slit after Nikki and Al have stayed the night. In both cases it's not clear who the murderer is, but Nikki and Al begin to suspect each other. As their mutual suspicion increases, the police – aided by an Aboriginal tracker – and Doyle close in.
Curator's notes
Named after a line in a Dylan Thomas poem, Kiss or Kill is part of an established US lovers-on-the-lam tradition running from They Live by Night (1948) through Bonnie and Clyde (1967) to Kalifornia (1993) and Natural Born Killers (1994), but its dry black humour gives it a particularly Australian flavour. The film was writer-director Bill Bennett's third road movie following Backlash (1986) and Spider and Rose (1994) and his fourth film in which the dialogue was almost entirely improvised.
Bennett began writing the script 10 years before making the film, twice turning down the chance to go into production because he felt the script wasn't ready. After an unhappy experience making a US film, Two if By Sea (1996), starring Sandra Bullock, Bennett decided to go back to basics. Encouraged by Cannes Film Festival selector Pierre Rissient, he rewrote the script from scratch, leaving out the dialogue though outlining what he expected from the individual scenes. In rehearsals the actors explored their characters in depth but were only required to improvise their dialogue once on set.
The film was edited making frequent use of jump cuts (editing within a single, or between two very similar, camera set-ups) with the aim of upping the characters' emotions and creating a sense of unease, while the soundtrack was looped – re-recorded after the shoot. Bennett had initially planned to add a score but during the editing process decided to dispense with music and give heightened attention to the sound design instead.
The film, made for roughly $2.5 million, screened at the Toronto and Montreal film festivals and sold to most major territories including the US, where it opened in around 20 cities, the UK, Japan, France and Spain. Although it did not become a hit, it almost earned back its production cost.
In Australia, Kiss or Kill stuck out for its fresh mixture of genre thrills, narrative intrigue and black humour. While many Australian genre films of the 1970s and '80s had been examples of outright exploitation cinema (later to be dubbed 'Ozploitation'), this was a genre film with a relatively fantastical plot and amoral characters that nonetheless exhibited the kind of slickness and credible acting that could earn industry respect and mainstream media attention.
Kiss or Kill received some enthusiastic reviews and a positive reception at local film festivals, being voted the audience's third favourite at the Sydney Film Festival and fourth favourite at Brisbane. It stayed in local cinemas for seven weeks and earned a relatively modest $1 million. At the 1997 Australian Film Institute Awards it took top honours, winning five of the categories for which it was nominated: best film, director, supporting actor (for Gilbert), editing and sound.
Frances O'Connor became the first person in 20 years to receive two best lead performance AFI nominations in the same year (after Helen Morse in 1976 and John Meillon in 1977 achieved a similar feat). She was also nominated for Thank God He Met Lizzie (1997) but commentators suggested this may have split her vote, since she failed to win for either film. Not that this seemed to hinder her career. Having come to attention in 1996's Love and Other Catastrophes, O'Connor was able to use her two 1997 films as a springboard to a successful career in US and UK films and television.