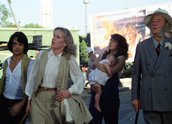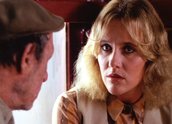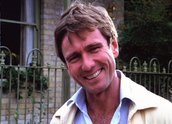 The Killing of Angel Street (1981)
Synopsis
Jessica Simmonds (Liz Alexander) returns from overseas to find her father, a retired professor (Alexander Archdale), embroiled in a public battle to save the historic Sydney waterfront houses of Angel Street. When he dies in mysterious circumstances, Jessica joins forces with the Angel Street residents and a union leader (John Hargreaves) against a corrupt developer with powerful friends.
Curator's notes
The Killing of Angel Street is a fictionalised political thriller based on the disappearance of Sydney heiress Juanita Nielsen. Nielsen was last seen alive in Sydney's Kings Cross in 1975, where she was involved in the fight against a redevelopment of Victoria Street. Her body has never been found, nor her killers charged. The film shifts the fight to a line of waterfront terraces in Balmain but there are many obvious similarities.
The union leader Elliott is clearly inspired by Jack Mundey, a Communist building union leader who helped Nielsen to stop the demolition work.
The film has a sometimes romantic and talky script, but effective moments of tension. Peter James' cinematography and Liz Alexander's performance give it much-needed solidity.