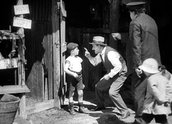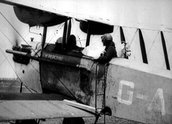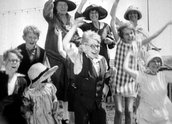 The Kid Stakes (1927)
Synopsis
Fatty Finn ('Pop' Ordell) is the scruffy six-year-old leader of a gang of kids in the dockside suburb of Woolloomooloo in Sydney. Fatty enters his pet goat Hector in the annual goat races, but his rival Bruiser Murphy (Frank Boyd) tries to ensure that he won't win. Hector is let loose in the grounds of a Potts Point mansion, where he eats a large portion of the prize garden. The owner locks the goat up, so Fatty and his gang sign an oath in blood to bust Hector out. With no time to get to the races, a love-struck aviator (Jimmy Taylor) offers to fly Hector in his aeroplane. Hector wins his heat and lines up against stiff competition for the final, including Bruiser Murphy's goat Stonker. Fatty grips the reins for the race of his life.
Curator's notes
The Kid Stakes was the one and only feature-length movie of Tal Ordell, the sad-faced actor who plays the radio broadcaster in clip three. Ordell was well known to Australian film audiences in the 1920s because of his appearance in three 'Dad Hayseed' comedies by Beaumont Smith, and as Dave in Raymond Longford's On our Selection (and its sequel) in 1920-21. Ordell was a writer, actor and experienced bushman. He wrote short stories and poetry for The Bulletin and had success on Australian stages in vaudeville, melodrama and Shakespeare. In The Kid Stakes, he created one of the greatest comedies of the silent era, although it was largely dismissed at the time as simply a children's film (in itself, a strange kind of put-down).
Sydney Nicholls was a radical cartoonist in his youth, drawing cartoons for the International Socialist, The Australian Worker and The Australasian Seamen's Journal. He had drawn the titles for Raymond Longford's The Sentimental Bloke in 1919 and there's little doubt that Fatty Finn, which was first published in 1923, is highly influenced by CJ Dennis' classic story of a sentimental tough guy from a poor inner-city neighbourhood. Fatty is a half-pint version of the 'Bloke' with his own 'push' of tiny would-be toughs and molls, who already have a strong sense of how the world works. They are merciless when the velvet-suited boy from Potts Point (Master Algie Snoops, played by David Lidstone) wanders down the hill into their territory. They jeer and bait him, and Fatty challenges him to a fight – although he's surprised when Algie proves himself a tough opponent.
The film is famous for its finale, the goat race, but this sequence was actually filmed in Rockhampton in Queensland, because goat racing was illegal in NSW! The role of Fatty Finn was played very charmingly by Tal Ordell's own six-year-old son Robin, known as 'Pop' Ordell. Robin Ordell went on to become a star of Sydney radio, often with his father, in the 1930s. He joined the Royal Australian Air Force and won a Distinguished Flying Cross (DFC). He was killed over Holland in 1945 at about the age of 24. His father Tal died three years later in Sydney. Many of the locations for The Kid Stakes were in Woolloomooloo, and a few are still recognisable today.