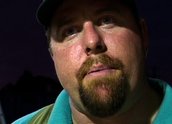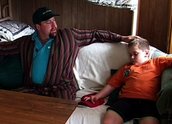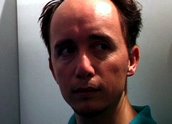 Synopsis
Kenny Smyth (Shane Jacobson) provides an essential service, but few people want to shake his hand. As a senior plumber at Splashdown Corporate Bathroom Rentals, he provides portable toilets for any outdoor event – from rock festivals to neighbourhood fairs. Kenny takes pride in his work and enjoys it, but he gets no respect. His ex-wife makes his life a misery, his son Jesse (Jesse Jacobson) thinks he's going to hell, and his dad (Ronald Jacobson) is ashamed of him. The patrons of his service behave like animals, and offer few thanks, even when he retrieves lost valuables from the muck. When his boss Glenn (Glenn Parker) sends him on a business trip to Nashville, Tennessee, Kenny meets Jackie (Eve Von Bibra), a flight attendant. Romance is about to blossom when he's called urgently back to Australia. His father is ill. Kenny returns to a series of crises on the biggest day in the portaloo calendar, the Melbourne Cup.
Curator's notes
Kenny was the surprise hit of 2006, partly because of the way it reinvents the image of the little Aussie battler. Kenny is a working man who embodies the best qualities of both those words: he takes immense pride in doing a dirty job well, despite all the insults and indignities of the work. He knows he's helping people, even if they don't recognise his contribution. His private life is a mess, but he continually swallows his pride and takes the knocks that come from an inconsiderate ex-wife and his whingeing cuss of a father. Indeed, it's fair to say that Kenny's life is a veritable avalanche of adversity, and his efforts to stand tall and firm against the tide make him an heroic figure. The fact that he would not see himself as that made audiences love him even more.
The mockumentary form had been more popular in the US than in Australian film until Kenny came along, but there are precedents. We Can Be Heroes, the Chris Lilley television series came out in 2005, to great acclaim – although by that stage, Kenny was already in production. Kenny also takes a more dramatic approach to its story than most mockumentaries. It is rigorously deadpan and completely realistic in its depiction of the life of a portaloo technician, partly because the company Kenny works for is a real one, doing real work in the movie (although the one thing we never see is real faeces).
The original idea came from stories that Clayton Jacobson heard from employees of Splashdown. He and his brother Shane made a short film as the first step. The boss of Splashdown put up a large part of the money to make the feature. Most of the workers who labour beside Kenny really are Splashdown employees and Kenny's dad is played by Shane Jacobson's real father.
The other precedent, although it may not be intentional, is The Sentimental Bloke, one of Australia's most enduring depictions of a working class man. Kenny is a much more decent individual than 'the Bloke' – who's basically a criminal with a good heart – but both are an attempt to find comedy and humanity in a working class milieu. One of the most interesting elements of Kenny is its linguistic invention, its love of old-fashioned 'strine' English. Shane Jacobson's delivery of a string of colourful phrases never seems forced or self-conscious. Kenny reinvents for a young audience a form of Australian speech that had all but died in the popular media, although not in the culture itself. The film is Australian to its bootstraps, without being strident or jingoistic. One reason it was so popular is that it strove to depict a man's decency without sentimentalism. Kenny is the unsentimental bloke, in that sense.
For other depictions of working class Australian men on this site, see The Sentimental Bloke (1919), Petersen Love Letters From Teralba Road, Buddies, The FJ Holden, Footy Legends, Spotswood and Sunday Too Far Away.