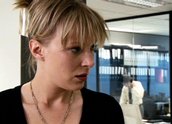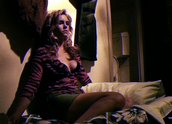 The Jammed (2007)
Synopsis
Ashley Hudson (Veronica Sywak) works in an insurance company in Melbourne. By chance, she meets Sunee (Amanda Ma), a Chinese woman who believes her daughter may have been sold into prostitution. Ashley doesn't want to get involved, but Sunee is helpless. They begin to distribute posters of the missing girl. Some months earlier, three young women are driven from Sydney to Melbourne by a Chinese-Australian hood. Crystal (Emma Lung) is from Shanghai. She has been raped repeatedly by her captor, since arriving for what she thought was a job as a dancer. She joins Rubi (Sun Park), also from China, and Vanya (Saskia Burmeister), from Russia, in an illegal brothel in Melbourne, run by Vic Glassman (Andrew S Gilbert). They are kept in locked rooms, working long hours for no pay, having to repay 'debts' to cover the cost of their illegal importation. When Rubi takes an overdose, Vanya finds one of the missing posters. She escapes for long enough to call Ashley, who enlists her ex-boyfriend Tom (Todd MacDonald). They rescue all three women, but a new nightmare begins. The Department of Immigration sends Crystal into detention. Rubi and Vanya find other means of escape. No-one is saved, or even safe. The sex slavery trade continues.
Curator's notes
The Jammed is a rare kind of Australian film – a passionately committed thriller about a great wrong. It was shot on a low budget without initial government assistance. Film Victoria came on board with money to get it finished, but no distributors wanted to release this film in theatres until it was championed by critics in Sydney and Melbourne. The film opened to good box office in August 2007.
The writer-director Dee McLachlan previously worked in South Africa and the US under the name Duncan McLachlan. The Jammed is her first Australian film. It was shot on HD cameras by Peter Falk and it's an impressive local debut about a subject that's rarely discussed in the media. A title at the outset says 'Inspired by court transcripts and actual events.' Another title at the end mentions the deaths, in 2001 and 2002, of two sex trafficking victims in Villawood Detention Centre in Sydney. It is clear that there are two great injustices here – one is the illegal traffic from overseas of young women into prostitution, an extraordinarily brutal trade that some estimates say brings 1,000 women to Australia each year. The other is the callous and bureaucratic way that some victims are treated by government departments when they escape their captors.
The script is clever in the way it deals with the perpetrators of both crimes. Andrew S Gilbert is an actor who normally plays likeable Aussie blokes. Casting him as the brothel owner, Vic Glassman, is effective because it suggests that these crimes are committed by everyday people. They are not portrayed as monsters, although what they do is certainly monstrous. Similarly, the character of Ashley Hudson is an everyday kind of woman, whose reactions are pretty normal: she doesn't really want to get involved. She's hardly equipped to go busting into brothels, which is what she eventually does. The performances are very strong throughout the film, but especially that of Veronica Sywak, as Ashley. She never lets us miss the sense of fear that Ashley is experiencing. It's an absolutely heartbreaking film, made with great commitment and a single purpose – to force Australian governments to do something about a new form of slavery.