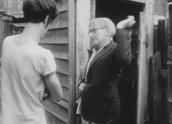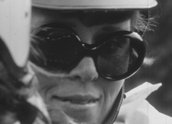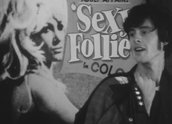 Jack and Jill: A Postscript (1970)
Synopsis
Jack Anderson (Tony Ward) lives in a condemned house with his mother (Jean Higgs) and lodger Stan (Stanley Randall) in the Melbourne working-class suburb of Maribyrnong. Gillian O'Keefe (Judy Leech), a middle-class kindergarten teacher, lives across the Maribyrnong Creek from Jack. The only daughter of Mr and Mrs O'Keefe (Alan Higgs and Phyllis Freeman), Gillian is bored with her dull boyfriend Christopher (Lindsey Howatt). Jack meets Gillian when his bikie gang gate-crash a church dance. The couple start dating but class and culture-related differences soon arise. Jack prefers entertainments such as wrestling and shows little interest when Gillian takes him to the ballet and an art gallery. Jack and Gillian break up on a date at the Luna Park fun fair, with tragic consequences.
Curator's notes
Released just prior to the Australian film revival of the early 1970s, experimental film Jack and Jill: A Postscript is a satirical and frequently acerbic look at urban Australia of the late '60s. Shot between November 1965 and June 1969 – a low point in Australian cinema, when only 12 features were produced – it draws influences from British 'kitchen sink' drama, '50s American juvenile delinquency movies and the cinéma vérité documentary style pioneered by French New Wave directors.
The film was produced independently by Phillip Adams and Brian Robinson, both of whom would go on to play vital roles in the Australian New Wave. Novices at the time, Adams and Robinson filmed a series of shorts in which nursery rhymes were used to pass ironic comment on the state of affairs in contemporary Australia. Linking the segments into a short feature, Jack and Jill: A Postscript was distributed domestically by Columbia Pictures, winning praise from many critics and Best Film at the 1969 AFI Awards.
Although technically rough, the movie is brimming with good ideas and succeeds in its aim of presenting a realistic picture of bored and restless youth rejecting the conservative values of their parents and society in general. Setting the tone for this fractured fairy tale is a stark opening segment showing Jack's living conditions (see clip one). As 'Little Jack Horner' is recited in a narrator's flat monotone, we are taken inside the condemned house he shares with his mother and Stanley, a decrepit war pensioner. With its rickety outhouse and general state of dilapidation, Jack's home resembles a Depression-era flophouse and its inhabitants seem to be as condemned as the structure itself.
Symbolically separated from Jack by a narrow stretch of water, Gillian and her parents represent the conservative middle class. Gillian's Catholic mother approves of her daughter's safe and boring boyfriend Christopher and is horrified by Jack, whom she regards as a hoodlum and, even worse, a Protestant hoodlum (see clip two). Similar to the harridan mother in Jim Sharman's sci-fi social satire Shirley Thompson versus the Aliens (1972), Mrs O'Keefe is a comic grotesque whose concern for 'keeping up appearances' at the expense of her daughter's happiness embodies all the bourgeois narrow-mindedness Adams and Robinson were railing against.
But Jack and Gillian's relationship isn't doomed by parental meddling; class division condemns them. Jack is unsophisticated in his tastes and aspirations. He likes fast food and hanging out in a pack with his bikie mates. Jack presents an exciting and dangerously attractive alternative to Gillian's dull boyfriend Christopher, whose motor scooter is no match for Jack's powerful motorcycle. But once Gillian gets closer to Jack it becomes clear he's an oaf and she represents just another sexual conquest to him (see clip two).
Jack and Jill: A Postscript represents an important stepping stone in Australian cinema. Like Tim Burstall's 2000 Weeks (1969) it urged a more honest depiction of the moods and mores of Australian society and is one of very few local features to capture at least something of the anti–Establishment sentiment of the late 1960s. A noted writer, journalist, social commentator and broadcaster, Phillip Adams played a significant role in developing structures for the Australian film industry revival of the '70s and produced features including The Adventures of Barry McKenzie (1972) and Don's Party (1976). Brian Robinson served as Head of Film and Television at Swinburne Technical College (later Swinburne University of Technology), where many prominent Australian filmmakers have studied.
Jack and Jill: A Postscript was released in Australian cinemas on 29 October 1970.