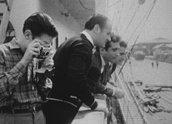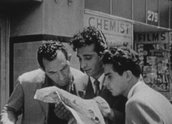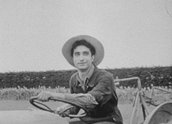 Il Contratto (1953)
Synopsis
Financed by loans from a travel agency, four young single Italian men (Giuseppe Michelini, Luigi Borsi, Giuseppe Cusato, Giorgio Mangiamele) arrive by ship in Melbourne, attracted by an Australian government scheme that promises them two years' guaranteed employment. After settling in inner-city accommodation, they find it impossible to obtain work in the midst of Australia's 1952–53 recession. The men and a woman friend move to a farm outside Melbourne where, after initial setbacks, they earn enough money to pay off the agency loans.
Curator's notes
Il Contratto is remarkable for the time in which it was made and for Australian film history generally. It shows the challenges, setbacks and at times intense frustrations of its central four characters as a microcosm of the post-Second World War Italian migration experience in Australia. The early scenes of migrants arriving by ship, settling into an urban boarding house and scouring Melbourne for work capture migration rites of passage otherwise unrecorded by early 1950s Australian filmmakers.
Less than two years after arriving in Australia from Italy in 1952, Giorgio Mangiamele (1926–2001) began making the ambitious feature-length docudrama based on the experiences of fellow Italians attracted to Australia by a two-year Australian government contract that promised work. While the extroverted, socially adaptable Mangiamele had been trained as a stills photographer in the Italian Police Force (Forensics section) in Rome, and was able to find regular commercial photographic work within the Italian community of the Melbourne suburb of Carlton, as he later told film historian Graeme Cutts:
When we arrived in Australia the crisis started: there was no work anywhere. The government didn't give a damn and didn't fulfil the contract. So I decided to make a film with real social meaning about five migrants who had difficulty feeding themselves.
As with Mangiamele's later films up to and including Ninety Nine Per Cent (1963), Il Contratto vividly depicts the immigrants' loneliness, alienation, even desperation as they strive for broader community acceptance and ways to earn a living. But where the later Mangiamele films' protagonists were isolated loners, the central four in Il Contratto (one of them played by Mangiamele himself) are sustained by group and Italian immigrant community solidarity.
Information about the making of Il Contratto, which cost the then small amount of ₤500, is now hardest to find of all of Mangiamele's films. The fact that no script or detailed production notes for the film survive, and that the many dialogue scenes – with actors visibly speaking a mixture of Italian and English – were filmed mute, adds further challenges to understanding Mangiamele's achievement.
The lack of audible dialogue also brings guesswork to some elements of the plot. For example, the apparent theft and retrieval of money from one of the men in the boarding house is not at all clear, while events around a serious motorbike accident and a key character's momentous departure from then abrupt return to the farm also raise unanswered questions. That said, the viewer can mostly follow Il Contratto as a silent film, even though it is essentially a rough cut.
Mangiamele indicated in published interviews that he intended to post-sync Il Contratto into Italian for release on the Italian 'B' movie market, following the then common practice in Italian cinema of re-recording all sound effects and dialogue during post-production. Yet the soundtrack appears not to have been completed (if commenced), and details of the film's production history remain unclear, including when he started making the film and when he left off.
While Mangiamele later said that he was unable to raise the money to add a sound track, both of the NFSA's 16mm original prints contain a magnetic stripe track which includes short sections of post-synchronised dialogue and Mangiamele himself singing pieces of opera. Quentin Turnour, who interviewed Mangiamele in 1997, has called this track 'Giorgio's attempt to provide a kind of spontaneous narrative commentary for the film'. He suggests that Mangiamele recorded it soon after giving up the idea of completing the film as originally intended; but it may also be all that survives of the filmmaker's failed 'DIY' attempt to record dialogue himself on a 16mm projector with a magnetic stripe recording head. (The NFSA has recently preserved the film in its mute form rather than keeping the compromise track that Mangiamele never intended to publicly screen.)
Il Contratto's visual style is cinéma vérité similar to the Italian postwar neorealist films, such as Bicycle Thieves (Vittorio De Sica, 1948), whose observational approach and concern for social issues Mangiamele admired. The naturalistic depiction of rural life also echoes the lives of immigrant Italian workers in Jean Renoir's Toni (France, 1935), a film noted for its documentary-like telling of a true story in settings (in and around the Provençal town of Les Martigues) where it had occurred. Like Raymond Longford's much earlier, equally naturalistic Australian silent film The Sentimental Bloke (1919), Il Contratto occupies two geographical spaces – the city, where the four main characters struggle to stabilise, and the rural Werribee market garden district on the fringes of Melbourne, where shared work strengthens the collective spirit.
Not all of Il Contratto is perfectly crafted. Mangiamele inserted black spacing periodically to flag scenes he had yet to shoot, and actors briefly linger at the start of some shots as if waiting for the word 'action'. The inclusion of unintentionally underexposed and overexposed shots, even the appearance of end-of-roll puncture dots, also testify to technical inexperience and the low budget.
Despite its occasional plot obscurities, Il Contratto does contain enough compelling moments and an ambitious, epic vision that makes the viewer wish that Mangiamele had collaborated with an experienced producer who could have helped guide Il Contratto through to the end of post-production including a professional soundtrack. The filmmaker was then ambitious and inexperienced. Independent post-production facilities in Melbourne in the early 1950s (when most of the commercial Australian film industry was based in Sydney) were also limited and primitive; especially for the sort of soundtrack the director had in mind and probably assumed (based on his Italian experience) would be available in Australia.
The problems of sound post-production are manifest in many other Melbourne independent films of the early 1950s, such as the early films of director Gil Brealey – Ballade (1953) and The Wheel (1954). Yet if Mangiamele had arrived to find just a little more of the professional film industry infrastructure Australia desperately needed in the 1950s, the story of local feature filmmaking, and of Mangiamele's subsequent career, might have been somewhat different.
Il Contratto is not known to have been publicly shown before being continuously screened as part of the Melbourne Museum exhibition, The Italians and Jews of Carlton (1993–94). It was also screened at the opening of Melbourne's Immigration Museum in 1999. Since his death in 2001, retrospectives of Mangiamele's films have been held at ACMI in Melbourne organised by the Council of Education, and in 2004–2005 at the Fuoricircuito (cine club) at the contemporary arts centre Zo, at his birthplace in Catania, Sicily.