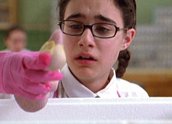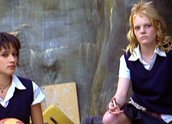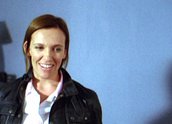 Hey Hey It's Esther Blueburger (2007)
Synopsis
Esther Blueburger (Danielle Catanzariti) is a feisty loner at a private girls' school who is constantly beseeched by her mother Grace (Essie Davis) to be normal. Esther invents excuses to explain why no friends are coming to her bat mitzvah, which is being held at the same time as her twin brother Jacob's (Christian Byers) bar mitzvah. Esther escapes from the after party being held in the leafy grounds of the family home. In the street she accidentally meets up with Sunni (Keisha Castle-Hughes) and invites her along. Sunni had captured Esther's attention in the days before and it seems that Esther has, at last, found a friend who understands her and is independent and fun.
After a traumatic incident involving a science experiment and her recently adopted pet duckling, Esther secretly swaps to Sunni's school, borrowing Sunni's school uniform. Sunni's very liberal single mother Mary (Toni Collette) is unperturbed when told of the ruse. Esther has considerably more freedom in her new educational environment and is much happier. But acquiring a peer group brings its own pressures: she experiments with the opposite sex and, in order to appear cool, starts to show signs of the bullying behaviour that she was once the victim of. A falling-out with Sunni and a motorbike accident make it all the more difficult for Esther to cope when her double life starts to unravel.
Curator's notes
In the opening scenes, Esther stands at the first floor window of one of her school's stately old buildings. She watches a large group of students doing cartwheels on the lawn, in school uniform and in formation. The lyrics of the opening song, which is also the film's theme – 'I am always the freak that can never fit in' – clearly indicate how Esther feels about herself. Esther's struggle to find a place where she feels like she belongs and is accepted by those around her is the backbone of this film. The contradiction implicit in her disdain for conformity and her need to be part of a group creates the tension that gives the character complexity, but the overall message is that it is OK to be yourself, to be an individual, to buck the system. Indeed, the film seems to be saying that it is desirable not to conform.
With Esther being 13 years of age, in that period between childhood and adulthood, Hey Hey It's Esther Blueburger has a foot firmly planted in the coming-of-age genre. This gives the filmmakers many dramatic opportunities, especially in terms of Esther's usually strained interactions with her mother. But with the character of Esther being out of step with most of those around her, it is more accurate to describe the film as a fish-out-of-water story. Some of the most successful films in Australia's recent film history fall into this category: Strictly Ballroom (1992), Muriel's Wedding (1994), Shine (1996), and, most recently, Happy Feet (2006).
Hey Hey It's Esther Blueburger is the first feature by writer-director Cathy Randall and producer Miriam Stein. While it is not unusual for Australian films to be made by debut filmmakers – they have always fared well within the contemporary funding system, which is underpinned by direct government subsidy – it is unusual for such a team to have secured two Oscar-nominated cast members. Those actors are the homegrown Toni Collette (The Sixth Sense, 1999) and New Zealander Keisha Castle-Hughes (Whale Rider, 2002). There are many seasoned actors in the cast and the large number of extras helps to give the film scale.
One of the most notable aspects of the film is the stand-out performance of newcomer Danielle Catanzariti. This is the first feature role for the South Australian school student and she is brilliant. She appears in nearly every scene, very effectively shows a broad range of emotions, and often has to convey internal conflict, which makes her achievement all the more impressive.