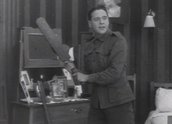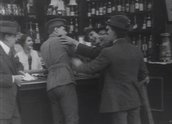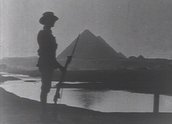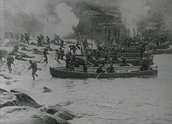 The Hero of the Dardanelles (1915)
Did any music accompany the screening of this film?

#1 from ccj – 12 years, 7 months ago.

Most certainly there would have been musical accompaniment with the film, and in this period there was a variety of ways in which music was used with films. In some instances, though rare in Australia at this time, a score would be provided with the film. More often a song would be released as sheet music and/or a record, but may not have been played during the film screening. Usually, music was selected from sheet music books produced especially for accompanying films, such as 'Motion Picture Moods for Pianists and Organists' by Erno Rapee, and either the film's producers would indicate the recommended music from the book, or the accompanist would make the selection.

In terms of 'The Hero of the Dardanelles' we are not aware of any particular score or song associated directly with the film. However, there were at the time quite a few compositions which may have been used at screenings. For an idea of these songs go to http://catalogue.nla.gov.au/
Or for further reading:
1. Cinema sheet music : a comprehensive listing of published film music from "Squaw Man" (1914) to "Batman" (1989) / by Donald J. Stubblebine.
2. Film music; a summary of the characteristic features of its history, aesthetics, technique; and possible developments. London, Kurt, 1900-1985.
3. Sounds for silents / foreword [by] Lillian Gish. Hofmann, Charles, 1914-
4. Australian performers, Australian performances : a discography from film, TV, theatre, radio, and concert, 1897-1985 / Peter Pinne.
5. Music and the silent film : contexts and case studies, 1895-1924 / Martin Miller Marks
6. The silent cinema in song, 1896-1929 : an illustrated history and catalog of songs inspired by the movies and stars, with a list of recordings / Ken Wlaschin
7. Playing ad lib : improvisatory music in Australia 1836-1970 / John Whiteoak.

Sally Jackson, Moving Image Branch, National Film and Sound Archive

#2 from sazza – 12 years, 6 months ago.

My great uncle Percy Smythe writes about acting the scenes at Obelisk Bay for the film 'Within Our Gates' in this diary extract.

July 1915. Wednesday 7th. At 3.30 am someone came and rapped along the corrugated iron walls of our hut and woke everybody up ... The companies from the first four tin huts, the seventh of the 13th., 1st., 2nd., and 3rd., took part. Marched up to Liverpool and took a special train for Sydney at 5.5am.

As we neared Sydney, day began to dawn. The train was blocked at one place and a few people in the houses below saw the troops and started waving to us. Another train somewhere near by was whistling its inside out with a variety of spasmodic blasts, and I wondered what was wrong with it. Then we moved on, and soon another engine somewhere seemed to suddenly go mad and started demonstrating its whistling powers. Then I tumbled to what was the matter. They were cheering us ... sharing in the general delusion that we were leaving Australia.

On we went, and every train we passed tore the throat out of its whistle, till at last we landed at Sydney. Just as we got there it started to rain. We marched from the station down through College St, up William St, and out past Rushcutter's Bay to some Navy place ...

About 9am. we fell in again and were put into boats and taken in tow by motor launches. Enjoyed the run out in the boats to Middle Head. After hanging about there for some time we were landed on the tiny beach at Obelisk Bay. A company of men there were dressed in the Turkish uniform ... The Turks were placed some on the beach and some further up the hill. The cinema camera was placed on a rock at the left of the beach. It was still cloudy now, but all the rain had disappeared and the air was very clear. When everything was ready and the boats arranged in position some behind the others, we got the command to fix bayonets, and then the sailors started to pull for the shore. Things began to get exciting.

When we got near the shore the troops on shore opened fire, and some bombs began to explode, and for some time there was quite a respectable din. As our boat, which was one of the last, ran up on the sand, we sprang out and charged up the hill with bayonets fixed. A lot of men, and some Turks, had fallen dead on the beach ... With the others, I charged up that hill till the whistle blew without noticing myself getting particularly tired. But when we stopped, I was almost exhausted, although it was only quite a short distance ...

Had a bit of a rest and then formed up on the beach again, while a couple of chaps acted the struggle on the cliff between the Australian and the Turk ... [After] a brief struggle the Turk got up, and a stuffed dummy was put in his place. The brave Australian then picked up the dummy and shot him over the cliff with truly wonderful ease.

Posted on behalf of Jacqui Kennedy, see http://www.smythe.id.au/diary/ch1.htm for more.

#3 from Editor – 10 years, 4 months ago.
To comment on this title, you need to be
logged in
.

RSS – Subscribe to an RSS feed of comments on this title. (learn about RSS)