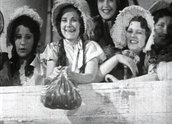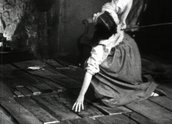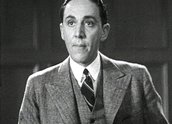 Heritage (1935)
Synopsis
James Morrison (Franklyn Bennett), a dashing and ambitious young settler in the new colony at Sydney Cove, woos Biddy O'Shea (Peggy Maquire), a fiery young Irish girl, when she arrives in Sydney on 'the wife ship', but fate intervenes and they both marry other people. A few years later, Morrison and his team of bullock drivers intervene to stop a band of Aborigines attacking a farmhouse. Biddy, mortally wounded by a spear, asks him to care for her baby. Morrison and his wife Jane (Margot Rhys) raise the boy, Frank Parry, as their own. Several generations later, Biddy's great granddaughter and namesake marries the great grandson of James Morrison, now a member of the Federal Parliament.
Curator's notes
Heritage is Charles Chauvel's thunderous endorsement of the pioneer mythology of Australia, his version of Birth of a Nation. Chauvel rips through his potted version of Australia's history, from first settlement to the present (which was 1935 in this case), encapsulating his nation building ideology in a story of two families through 150 years of shared toil. The pillars of that ideology were those of the pastoralist establishment of the time, from whom Chauvel had come – the heritage is the soil, farming is the bedrock of wealth and prosperity, the nation is British and white, and woman go where their husbands lead. Some of this was soon to change drastically, with the postwar boom in manufacturing and the mass-migration program, but even in 1935, Chauvel's tendency to preach and berate, rather than dramatise, made the film seem like a tiresome lecture. It was not a success.
Although parts of the film remain visually impressive, the style of acting was wooden and dated even then. The casting of amateur actor Franklyn Bennett to play James and Frank Morrison did not help. As in Uncivilised, his next picture, Chauvel uses Aboriginal actors to supply a violent action scene, although they're completely absent from the rest of the film's historiography. The debate about the nation's future, dramatised in Frank Morrison's speech to Parliament (clip three), does not mention their interests – but that is probably only historically accurate. If there was ever a film which demonstrates the ideological underpinnings of history-telling, this is it.