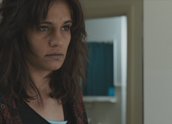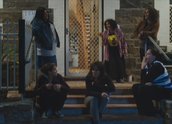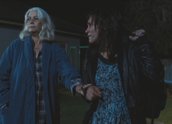 Here I Am (2011)
Synopsis
During her first week of life after release from a women's prison, Karen Burden (Shai Pittman) attempts to reorientate herself back into society. She plans to reunite with her three-year-old daughter and to rebuild a relationship with her estranged mother Lois (Marcia Langton). Lois cared for the child during Karen's incarceration and is reluctant to let Karen back into their lives.
Karen visits the house of her on-again, off-again boyfriend Robbie (Warren Milera) and meets Jeff (Bruce Carter), Robbie's brother. With support from the Temple House women's refuge, Karen arranges a supervised visit with her daughter. Karen's daughter, allergic to peanuts, eats a biscuit during the visit and ends up in hospital.
After the first week out of prison, Karen visits her parole officer. Even though it's been a hard week for her, Karen believes in herself and thinks she will be able to re-establish herself in society in a meaningful way.
Curator's notes
Beck Cole's first feature, Here I Am, takes the audience into Karen's world as she struggles to repair the damaged relationship with her mother, and see her daughter again.
A cast of brilliantly colourful characters from the Temple House women's refuge give this film its heart and soul. As Karen takes the first steps in her new life, she benefits from the camaraderie of the other women in the refuge. Together these women demonstrate the power of love over adversity, as they bond together and empower each other.
The strong female characters in Here I Am give voice to some of the most marginalised people in our society. These women suffer in silence behind prison walls, in transit refuges, or – as in Lois's case – in suburban Australia, where they attempt to pick up the pieces of their broken lives.
The women's sense of humour and fun, in the face of their disadvantage, enables Karen to rise to meet the challenges of her new life. With a slow rhythmic pace the film gently rocks the audience through the painful issues the women face both individually and collectively. The soundtrack emotionally conveys the sentiment underpinning the storyline.
Beck Cole's first feature, Here I Am, contributes to a new body of work written and directed by Aboriginal and Torres Strait Islander filmmakers, over the past five years. This film has a unique and refreshing point of view, and Cole's representation of women's social and cultural issues, from an Indigenous woman's perspective, is a first for Australian cinema.
Here I Am was released in Australian cinemas on 2 June 2011. It screened on ABC1 at 8.30 pm on 8 December 2011.
Read an interview with Beck Cole on the ASO blog and see also A Short History of Indigenous Filmmaking.