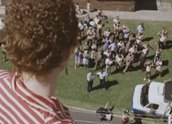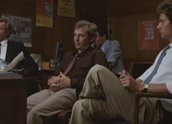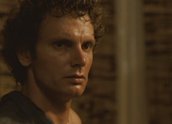 Heatwave (1982)
Synopsis
During a sweltering Sydney summer, architect Stephen West (Richard Moir) faces determined community opposition to his greatest opus, a $200 million inner-city development called the Eden Project. The developer, Peter Houseman (Chris Haywood), hires goons to forcibly remove squatters and protesters from a line of old terraces that are to be demolished. Local newspaper publisher Mary Ford (Carole Skinner) enlists union help to ban work on the project. Fiery activist Kate Dean (Judy Davis) rallies the divided residents, some of whom want to sell out. At a swanky Christmas party, she poses as a waitress in order to tip food over Houseman. When Ford disappears, architect West and activist Dean become uneasy allies in an attempt to find out what happened. A fire claims the life of an old resident in the disputed line of terrace houses. Houseman goes bankrupt and a new threat emerges – a ruthless Kings Cross businessman named Dick Molnar (Frank Gallacher). Dean and West turn to each other, unsure of whom they can trust. All accounts are settled as a storm breaks over the New Year's Eve revellers.
Curator's notes
Heatwave went through a long gestation, perhaps a sign of the inherent difficulties in trying to tell a story that was close to being true. The original script was by former architect Mark Stiles, who had a small part in Newsfront (1978). He worked on the idea with Tim Gooding, then approached Phillip Noyce, who brought in a young film school graduate, Marc Rosenberg, to rewrite their script. Noyce and Rosenberg collaborated on the rewrite for about six months, but the timing was complicated by a rival project – The Killing of Angel Street (1981), inspired by the same events, being in development at the same time. Both films drew on the disappearance of newspaper publisher Juanita Nielsen on 4 July 1975 from Kings Cross. Nielsen was active in the campaign to stop the redevelopment of Victoria Street in Kings Cross. Many events in Heatwave closely parallel aspects of the Nielsen case, although other parts are fictionalised.
Noyce had just completed Newsfront (1978), a film that was spectacularly troubled in production and spectacularly popular on completion. It was already well on its way to becoming an Australian classic, but Heatwave was a completely different kind of film, and deliberately so. It was contemporary and somewhat experimental, with a strong desire for relevance. The trend towards historical subjects in the 1970s was over. Noyce wanted Heatwave to be radical and innovative and to say a great deal about the culture of Sydney. The story had all the right ingredients – real estate, corruption, murder, romance, politics and large sums of money.
Beneath that it was a serious attempt to look at the way creativity and compromise are entwined in large projects – whether it's an innovative building or a feature film. Noyce has remarked (in Backroads to Hollywood, 2004, by Ingo Petzke) that he could see parallels between the profession of architect and filmmaker. He was also attracted to the film's theme of class divisions within Australian society – Richard Moir's architect comes from the working class but works for the rich; Judy Davis's character is from a privileged upbringing, but she lives with and tries to protect the poor and working-class residents of the inner city. 'Another attraction for me was that just before I read the screenplay I had moved to live in Kings Cross', Noyce says in the book.
In the final analysis, Heatwave never quite becomes a gripping drama, although it's consistently engaging on the level of ideas. It's also innovative in structure and especially in the sound design, which features complex and competing layers of conversation in many scenes. Noyce himself has written that the sound mix doesn't always work, but it taught him how to use layered depth of sound on his later films. Another difficulty was that the sound was recorded mono, instead of stereo, which made the layers difficult to appreciate. Noyce: 'I was disappointed in the end result. I got this sinking feeling at the end of the first public screening that the film wasn't working as I had intended. I think there were certain narrative connections that were never quite completed for the audience … I felt a lot of artistic pressure and also commercial pressure, to make a film that was as distinctive as Newsfront but still would work at the box office. And in some ways I failed in both regards. Though it was by and large well received, it certainly failed commercially. And it led me to rethink my approach to movie making.'
Heatwave was released in Australian cinemas on 8 March 1982. At the 1982 AFI Awards, it was nominated for Best Editing (John Scott) and Best Sound (Julian Ellingworth, Grant Stuart, Lloyd Carrick, Greg Bell and Peter Fenton).