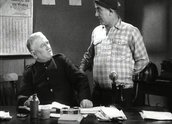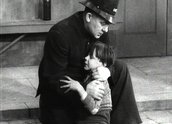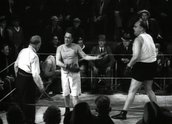 Harmony Row (1933)
Synopsis
Tommy Wallace (George Wallace), down on his luck, decides to join the Victoria Police. He's threatened, fooled and bullied by the thugs of Harmony Row, a tough inner-city slum, so the sergeant (Marshall Crosby) reassigns him to a well-to-do suburb, where he's terrified by the ghosts in a haunted mansion. Back on Harmony Row, the sergeant sets up a boxing match between Constable Dreadnought (Tommy's nickname) and Slogger Lee (John Dobbie), a gigantic criminal. Tommy beats Slogger and wins the heart of Molly (Phyllis Baker), the girl he fancies.
Curator's notes
This is George Wallace's second film, after His Royal Highness, made a year earlier in 1932. Wallace is still very much the vaudeville comedian in these films, probably because Frank Thring, director of both pictures, saw no reason to change his style for the films. Wallace's popularity had brought him a long way since his first appearance on stage, at 3 years old, in a Sydney pantomime. Here he trades his regulation baggy pants slung low and his check shirt for a policeman's uniform that is, of course, too big for him. Thring's direction is rudimentary, the story (by Wallace) nonsensical, but it has a few classic routines and one very odd one (see clip two).
Wallace's humour was both verbal and physical, and much more innocent than his contemporary Roy Rene. He is always good-natured, even when he's trying to be a fierce policeman; he can't be foul-mouthed because he's too unworldly. He lacks courage, but not heart, or a sense of what's right. The prowess of his physical comedy is fully evident in the boxing match which provides the film's climax (clip three). Wallace was renowned for falling on his left ear, although this sequence allows him to use practically every pratfall in the vaudeville comedian's arsenal.