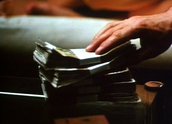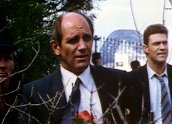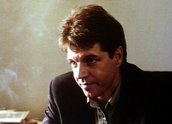 Grievous Bodily Harm (1988)
Synopsis
Celebrated crime reporter Tom Stewart (Colin Friels) pockets the cash from an armed robbery when the bandits crash their getaway car. Detective Sergeant Ray Birch (Bruno Lawrence) suspects something, but has his hands full with a series of murders. School teacher Morris Martine (John Waters) suspects that his beautiful wife Claudine (Joy Bell) did not die in a car accident in Paris, as he was led to believe. He has seen her in Sydney, and he is prepared to kill anyone who tries to stop him finding her. As the cops scratch their heads, Stewart puts the pieces together, following a trail that leads to the missing girl.
Curator's notes
Grievous Bodily Harm was made during a boom in production in the 1980s that followed the granting of generous tax deductions for film investment. There are elements of a good hard-boiled 'cops and journos' kind of thriller, and a very capable cast do their best, but the logic driving the story is never solid.
It was Mark Joffe's first theatrical feature, and he would go on to better scripts with Spotswood, Cosi and The Man Who Sued God. Nevertheless, he shows good command of performance in Grievous Bodily Harm, and the movie had its admirers at the time. David Stratton described it as 'one of the most satisfying thrillers made in Australia' in his book The Avocado Plantation – Boom and Bust in the Australian Film Industry. 'It is crisply directed and perfectly framed; Ellery Ryan's camerawork is outstanding. The film grabs you right from the start with the very classy opening credits. True, the ending does not quite maintain the same level of surprise and invention, but it works nonetheless…. Above all, Joffe and writer Warwick Hind respect the conventions of the genre and they certainly deliver the goods,' wrote Stratton.
The film was nominated for four AFI awards in 1988, including best picture.