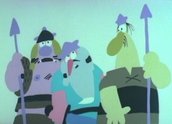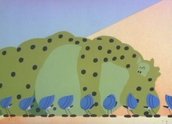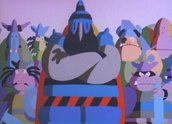 Grendel Grendel Grendel (1980)
Synopsis
The animated feature Grendel Grendel Grendel is introduced by co-producer Phillip Adams, who discusses the role of monsters in the human imagination as a prelude to the film's 'venerable' monster, Grendel (voiced by Peter Ustinov). The film's early sequences depict Grendel in contrasting modes: as a comic, lovable creature and as a rampaging monster who kills humans.
In a flashback sequence, we see the bumbling King Hrothgar (voiced by Ed Rosser) and his men mistake the young Grendel for a tree spirit, then flee when Grendel's mother ('The Great Bogey') comes to his rescue. Inside their underwater cave, Grendel reflects that this is the first time he has sighted human beings. Grendel continues to observe humans but finds their behaviour increasingly grotesque. Hrothgar, dissatisfied with the failure of his warrior Unferth (voiced by Ric Stone) to prevent Grendel's continued attacks on the king's mead hall, invites the renowned hero Beowulf (voiced by Arthur Dignam) to his kingdom to slay Grendel.
Curator's notes
Grendel Grendel Grendel is based on John Gardner's novel Grendel (1971), a re-telling of the medieval epic poem Beowulf from the monster's point of view. Despite occasional violent scenes and some tragic elements, the film is witty rather than dark; it utilises bright colours and includes a number of musical sequences. Written, directed and co-produced by the renowned animator and graphic artist Alexander Stitt, the film boldly dispenses with the 2D animator's traditional black outline, instead utilising light, shadow and colour to distinguish figure parts and to separate the images from the background (see Australian Animation: Alex Stitt, 2007, L Torre and D Torre, Cinematic Seedlings, Melbourne).
The film calls into question the stereotypical notions of 'monster' and 'hero', showing that humans are also capable of monstrous acts and that monsters can be deserving of sympathy. Meanwhile, unlike traditional hero narratives, Beowulf is not the central character, appearing only briefly at the end of the film where he is portrayed as vain and self-serving. The 12-foot, green-spotted creature Grendel, voiced by the internationally renowned actor Peter Ustinov, is the only character to arouse our empathy, despite the fact that he occasionally devours human beings. However, he remains an isolated and alienated character to the end: his mother has no language and the humans he encounters fear and don't understand him. In spite of his own acts of violence, he is shown to be more intelligent, thoughtful and philosophical than the constantly warring, ambitious and superstitious humans whose stupidity he derides.
Only the second full-length animated feature to be made in Australia and the first to address adult audiences, it was produced at a time when the public tended to regard animation as cartoons made for children. Grendel Grendel Grendel screened only briefly in Melbourne and Sydney (from 9 July 1981) and later in the US. It was nominated for two AFI Awards in 1981: Best Achievement in Production Design (Alex Stitt) and Best Original Music Score (Bruce Smeaton).
Alex Stitt experimented with animation whilst enrolled in a design course at the Melbourne School (now RMIT University). He has been involved in Australian animation since Channel Nine created Fanfare Films to produce animated films and advertisements at the introduction of television in 1956. Stitt has produced countless advertisements, title sequences and short films and created the character Norm for the Victorian Government's Life Be In It campaign in 1974. He also wrote, directed and produced a second full-length animated feature, Abra Cadabra (1983).
In 2002, Stitt and his former graphic design partner, Bruce Weatherhead, were inducted into the Australian Graphic Design Association's Hall of Fame. The Annecy International Animation Festival in France hosted a special screening of Grendel Grendel Grendel in tribute to Stitt in 2003. The musical soundtrack, composed and conducted by Bruce Smeaton, was released by 1M1 Records in 2004.