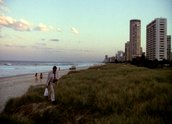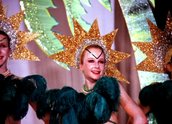 Goodbye Paradise (1981)
Synopsis
On Queensland's Gold Coast in the early 1980s, a disgraced former cop, Michael Stacey (Ray Barrett), sets out to find a missing girl, the daughter of a senior politician. Stacey is down on his luck and desperate for a drink. His ex-wife has left him, he misses his dog Somare, and the publisher cancels his book about police corruption. He plunges into the Gold Coast's nightmarish world of corruption, sex, violence, cult religion and dirty politics. He gets beaten up, finds and loses the girl and stumbles upon an unlikely plot for a military coup. People keep dying around him and he must continually resist the temptations put before him. Surviving in Surfer's Paradise is not easy.
Curator's notes
Goodbye Paradise is an odd but compelling attempt at an Australian film noir – part political satire, part existential romance, part philosophical allegory. Ray Barrett gives one of the best performances of his long career as the whisky-sodden ex-deputy Police Commissioner who's trying for one last grab at redemption. His world-weary Raymond Chandler-style narration, co-written by Bob Ellis and Denny Lawrence, is one of the film's highlights, establishing a comic but rueful tone.
The film was made during the long and controversial years of Joh Bjelke-Petersen's National Party government in Queensland, and the script is full of topical references that may now seem difficult to believe. In fact, there were strong secessionist sympathies in Queensland, and controversial schemes to search for oil on the Great Barrier Reef. Even so, the film's subplot about a political coup was never quite credible, even as satire. What still works well is the film's evocative picture of the Gold Coast as paradise lost – a sleazy fun park, full of gaudy symbols (bananas and pineapples everywhere), tawdry politics and bus tours of old ladies having a sing along. The film has many great lines, but one of the best is: 'This town is what Australians have instead of an afterlife'. Ray Barrett's final soliloquy, shown in clip 3, is a superb rounding off of the theme – that paradise is youth, and everyone must eventually say goodbye to it.