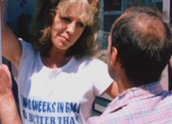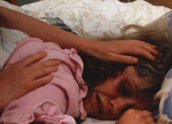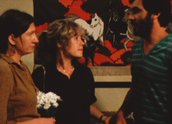 Synopsis
In suburban Perth, young mother Fran (Noni Hazlehurst) has been seeking the social and sexual comfort of men while her husband, Ray (Danny Adcock), works up north. Ray returns unexpectedly one day, saying he's heard of her infidelity. He viciously beats her and leaves. Fran initially sinks into depression but cheers herself up by picking up a new man, Jeff (Alan Fletcher). Fran upsets her best friend, Marge (Annie Byron), by leaving her to look after the children without warning. Fran's new relationship puts her back in high spirits but, as a former ward of foster parents, she remains emotionally vulnerable. Her desperate need for love leads her to make some tragically inappropriate decisions.
Curator's notes
Fran has often been called a social realist drama but the film comes into clearer focus when it is viewed as a powerful modern tragedy. A vivacious character from a difficult social background is determined not to be a victim of circumstance, but her fatal flaw – an utterly desperate need for love – leads to regrettable decisions that harm both herself and those around her. This may make Fran sound drab and depressing but it's not, thanks to Noni Hazlehurst's life-affirming and emotionally wide-ranging lead performance and Glenda Hambly's insightful direction and writing.
Iinitially, the film seems to be setting up a feminist story of a working-class battler, a proudly independent woman in a world of male louts. It quickly reveals a more complex position in which Fran reacts to ill-treatment by behaving in less than admirable ways. The film seeks neither to excuse nor to condemn this; rather, it sets out to reach an understanding of the social and psychological dynamics of her situation.
The film's origins lay in a documentary Hambly had planned to direct for the Western Australian Department of Community Welfare to accompany a new child welfare scheme. For various reasons the project didn't come to fruition and Hambly instead wrote and directed Fran as a telemovie for the Seven Network.
Once the film was finished, executive producer Paul Barron saw the potential for theatrical exposure and was able to negotiate a cinema release. The film went on to win three AFI Awards: lead female actor for Hazlehurst, female supporting actor for Annie Byron (as Marge), and best original screenplay for Hambly. Critic Anna Dzenis has pointed out that with Fran, cinematographer Jan Kenny became one of the first women to gain a DOP (Director of Photography) credit on an Australian feature.
Fran was released in Australian cinemas on 14 November 1985. Besides winning AFI Awards for Best Actress, Supporting Actress and Original Screenplay, the film also received nominations for Best Picture, Director and Supporting Actress (Narelle Simpson). The Film Critics' Circle of Australia gave Noni Hazlehurst the Best Actress prize at their 1985–86 awards.