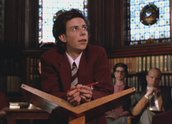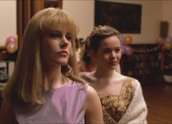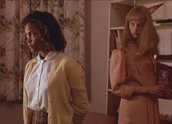 Flirting (1990)
Synopsis
At a private boys' school in 1965, class misfit Danny Embling (Noah Taylor) finds his romantic soulmate in Thandiwe (Thandiwe Newton), a precocious, intelligent girl of African heritage from the nearby private girls' school. After misunderstandings and misadventures they come together for a sweet if regrettably brief period that neither of them will ever forget.
Curator's notes
Flirting is the sequel to John Duigan's 1987 AFI award-winning The Year My Voice Broke, which was set in a town in the NSW wheat belt and produced by George Miller's production house, Kennedy Miller. Although enjoying the same light touch that helped make the first film such an audience favourite, Flirting stands on its own as one of the most memorable coming of age stories Australia has produced. Aside from featuring Britain's Thandiwe Newton, shining in her first significant screen role, the film boasts one of Noah Taylor's very finest performances, a memorable early role for Nicole Kidman, and a small supporting role for Naomi Watts (see clip one).
Flirting is rare in featuring no discernible weaknesses in terms of performance, pacing, storytelling logic or any other aspects of film craft. Most importantly, it is imbued with those indefinable qualities like charm and perfect tone; the former evidenced in a myriad of delightful details such as a teacher forever working on a model aeroplane, the latter in Taylor's portrayal of Danny Embling. Its humour feels effortless.
In Hollywood, sequels are all too often minor variations on an all-too-familiar theme. But Duigan's second film about the growing pains of the young Danny (inspired very loosely by his own youthful experiences) makes no obvious references to its predecessor and plays more like the second volume of a trilogy of loosely-connected stories (Duigan is reported to have planned and then abandoned a third film in this series). A reference point in creating sequels that significantly advance a storyline and central character is Miller's track record with the Mad Max films.
Part of Flirting's difference comes from its introduction of an institutionalised environment for Danny, but also because the sensitive hero has advanced at least a couple of years since his 15-year-old self was first seen on screen. In the intervening period Danny has developed a cynical carapace to help protect him in this hostile environment where he's constantly belittled and treated as an outsider. His brilliant strategy is to embrace his misfit status and glamorise it in his own mind. Weakness thus becomes a strength. The irony is that Danny does literally turn himself into a punching bag in one crucial scene: a boxing match from which, despite his being beaten, he snatches a kind of a moral victory.
A further point of difference from its predecessor is Flirting's depiction of racism as a daily fact of life in the mid-1960s. Racism is so normal here that it's arguable whether the girl pupils who bully Thandiwe with insults like 'boong' and feeble gags about bananas, would even recognise it as such. The film never makes heavy weather of this theme, skilfully weaving these ugly references into a picture of a relatively ignorant era in which 'blackness' was so different that it could also be perceived as exotic – the latter highlighted via a sequence featuring a Tarzan film, and the presence on the soundtrack of jazz composer Duke Ellington's famous 'jungle' sound, with its faux-elephant effects.
Flirting was released in Australian cinemas on 21 March 1991, in the UK on 25 October 1991 and in the US on 6 November 1992. It was nominated for six AFI Awards in 1990 including Best Supporting Actor (Bartholomew Rose) and Cinematography (Geoff Burton), and won prizes for Best Film, Editing (Robert Gibson) and Production Design (Roger Ford), as well as the AFI Members' Award.