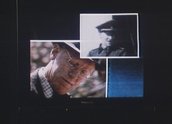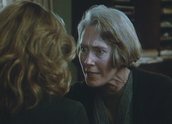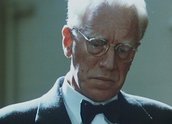 Father (1989)
Synopsis
Melbourne, 1989. Elderly widower Joseph Mueller (Max von Sydow) lives with his daughter, Anne (Carol Drinkwater), her husband Bobby (Steve Jacobs) and their daughters Rebecca (Simone Robertson) and Amy (Kahli Sneddon). Running a busy inner city hotel, the Winton family is thrown into turmoil when Iya Zetnick (Julia Blake), a Holocaust survivor, accuses Joseph of being Franz Kessler, a Nazi soldier who murdered her family in the Second World War.
Following reports by television journalist Paul Jamieson (Nicholas Bell), Joseph is arrested and placed on trial. Joseph denies the allegations, but Anne and Bobby begin to have doubts about his innocence.
Curator's notes
The question of how many Nazi war criminals made their way to Australia and whether some were even assisted by local authorities remains a thorny issue. Though a work of fiction, the story of Joseph Mueller in Father has close parallels with several war crimes cases that have come before Australian courts in the post-war period.
Directed by John Power (The Picture Show Man, 1977), Father immediately warrants attention for the central casting of Max von Sydow, the great Swedish actor who most famously collaborated with Ingmar Bergman on masterpieces including The Seventh Seal (1957) and The Virgin Spring (1960). Utterly convincing as a loving father and grandfather, von Sydow's finely tuned performance also gives the audience reason to doubt Joseph Mueller's innocence and remain involved in a story that's gripping to the end.
Equally impressive is admired veteran Julia Blake as Iya Zetnick, a Lithuanian survivor of the Holocaust who is certain she has found the man who killed her family and smiled at her while committing his crimes. As with Mueller, Iya's evidence at first appears damning but as the trial proceeds cracks begin to appear in her testimony.
Beneath the sensational story of a suspected war criminal being found 45 years later, Father is a story about a family under the most extreme pressure imaginable. Mueller is adored by his granddaughters ('my little monsters'), loved and admired by his daughter, Anne, and respected by son-in-law Bobby. When Iya's allegations are revealed on national TV (see clip one) it is Mueller's relationship with Anna which is most severely tested. Played with great conviction by British actress Carol Drinkwater, Anne is forced to confront not just the question of whether her father is a criminal but also the fact that he may be someone who has stolen the identity of Joseph Mueller and kept his terrible secret from her all these years.
Tackling a serious subject with integrity, Father makes good use of Melbourne locations and is a worthy addition to the body of films related to the Holocaust and the seeking of justice by its survivors. In a case of unfortunate timing, Father was released not long after The Music Box (1989), Costa-Gavras' highly acclaimed and very similarly themed drama starring Jessica Lange and Armin Mueller-Stahl. As a result Father failed to perform as well at the domestic box office or receive as much international exposure as it might have otherwise. Its qualities were recognised at the 1990 AFI awards, with Max von Sydow winning Best Actor and Julia Blake earning the accolade for Best Supporting Actress.
Father was released in Australian cinemas on 16 August 1990.