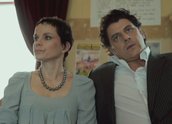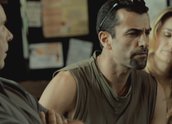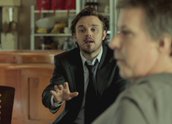 Face to Face (2011)
Synopsis
A workplace community conference unfolds over a single day. Colleagues (and three family members or friends) from a small construction company meet to decide the fate of sacked apprentice Wayne (Luke Ford). Wayne potentially faces jail after beating up his foreman, Richard (Chris Connelly), threatening business owner Greg (Vince Colosimo) and repeatedly smashing Greg's car.
Directing the heated conversation is the even-handed conciliator Jack (Matthew Newton). At the end of the day the participants have confronted their own lies, bad behaviour and self-deceptions, and have a chance at a fresh start.
Curator's notes
Face to Face is adapted by writer-director Michael Rymer from a 2000 David Williamson play based on real-life case notes. Thanks to Rymer's handling of the material, what initially seems an open and shut case becomes far more complex – socially, morally and professionally.
As the players begin to give their points of view, the picture emerges of a dysfunctional workplace rife with racism and sexual harassment. There is a culture of bullying and pranks aimed at alleviating the workers' boredom and resentment at the boss's lavish lifestyle and salary. Those involved have been in denial, tolerating questionable behaviour to maintain their own images as decent human beings.
This is the most bracing and insightful aspect of a film that might have easily have turned into a contrived shopping list of social talking points. Instead, issues emerge not as flat theory but living attitudes affecting individuals on an existential level. Rymer skilfully modulates the drama so that the emotional peaks rise and fall at unpredictable intervals.
The film's impact is aided by astute casting: a mixture of famous faces, like Colosimo and Sigrid Thornton, and lesser-known performers – there isn't a weak spot in the ensemble. It also benefits from the dynamic use of flashbacks to illustrate the main players' contrasting perspectives on events and help material originally conceived for the stage work in cinematic terms.
Rymer had returned to Australia after working in US television for a decade. He and his producing partners financed the film privately and shot the material in less than two weeks, filming for roughly 12 hours a day. The intense schedule not only enabled him to make Face to Face on a relatively tight budget, but appears to have lent added urgency to the performances.
Face to Face was released in Australian cinemas on 8 September 2011. At the first AACTA Awards, Robert Rabiah was nominated for Best Supporting Actor. At the final IF Awards in 2011, the film was nominated for Best Picture, Director, Script and Editing (Sasha Dylan Bell). The ensemble cast was also nominated for Best Actor (Vince Colosimo, Luke Ford, Christopher Connelly, Matthew Newton, Robert Rabiah and Josh Saks) and Actress (Sigrid Thornton, Ra Chapman, Laura Gordon and Lauren Clair).