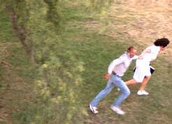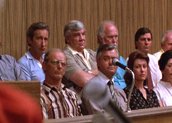 Evil Angels (1988)
Synopsis
A true story. On the night of 17 August 1980, mother-of-three Lindy Chamberlain (Meryl Streep) watches a dingo carry her baby daughter, Azaria, from a tent near Uluru (then known as Ayers Rock) in central Australia. Azaria's body is never found. A Northern Territory coroner's inquest clears Lindy and her husband, Pastor Michael Chamberlain (Sam Neill), of any wrongdoing. Convinced the Chamberlains are guilty, police led by Detective Charlwood (Nick Tate) use questionable forensic findings and circumstantial evidence to charge Lindy with murder and Michael with being an accessory.
In the lead-up to the trial, public sympathy for Lindy is overtaken by rumour and malicious gossip. Many Australians are convinced Azaria's death and the Chamberlains's apparent lack of remorse are related to the couple's Seventh–day Adventist beliefs. Amid a media frenzy, chief prosecutor Ian Barker QC (Bruce Myles) convinces the jury of Lindy's guilt and she is sentenced to life imprisonment for murder. On 15 September 1988, following the chance discovery of critical new evidence, Lindy's conviction is quashed and the case declared a miscarriage of justice.
Curator's notes
If it wasn't a true story it would be hard to believe much of what you see and hear in Evil Angels. How on earth could Lindy Chamberlain have been convicted on evidence so dubious the judge did everything but order the jury to acquit her? A meticulously written, directed and performed drama based on the most sensational case in Australian legal history, Evil Angels is a stinging indictment of the shameful way in which much of the Australian media and large sections of the Australian public conducted themselves during Lindy and Michael Chamberlain's extraordinary ordeal (see clip three).
Lindy Chamberlain had already spent more than three years in a Darwin prison when John Bryson's Evil Angels was published in 1985. British producer Verity Lambert bought the rights and asked an initially reluctant Fred Schepisi to read it. In David Stratton's book The Avocado Plantation (1990, Pan Macmillan), Schepisi remembers, 'By about 150 pages, I became appalled at how little information the people who talked so much about it [the case] actually had … I was outraged and angry at myself because I'd participated in this process'.
After working overseas since The Chant of Jimmie Blacksmith (1978), Schepisi returned to make the biggest production ever mounted in Australia. At a time when Actors' Equity frequently objected to imported stars appearing in Australian movies, no voice was raised when two-time Oscar winner Meryl Streep was announced in the lead role. Mastering Lindy's New Zealand accent and every aspect of her character – Lindy's dry sense of humour in the most terrible circumstances is remarkable – Streep won Best Actress at Cannes and earned an Oscar nomination as the mother viciously turned on by press and public for not showing sufficient grief and for holding religious beliefs many considered 'weird' and somehow related to Azaria's death. 'Azaria means devil child' and 'it was a human sacrifice' were two of the more ludicrous rumours circulating at the time. Alongside Streep, Sam Neill is outstanding as Michael Chamberlain, whose self-doubt and crisis of faith – 'I don't know what God wants anymore' (see clip two) – is ruthlessly exploited by the press and prosecution lawyers.
Great credit must also be given to the screenplay by Schepisi and the late Robert Caswell, one of the finest of all Australian film and TV writers, whose credits include Scales of Justice (1983), Bodyline (1984) and the Hollywood feature The Doctor (1991). Schepisi and Caswell present an enormous amount of legal and forensic information with great clarity, and cleverly spotlight the social impact of the case with short, sharp scenes of Australians from every walk of life debating the issues. Some of the most corrosive dialogue in Evil Angels is delivered by bit-part actors playing mums and dads watching the TV news, senior citizens on the bowling green, ladies at the laundromat and mates at the pub. Every Australian who remembers the Azaria Chamberlain case will recall having said or heard exactly the same things, and will surely have their own moment to match the scene in which the hostess of a fancy social gathering slams her fist on the table and says 'I'm not having another dinner party ruined by those people'.
Perhaps because of the very unflattering picture of bigotry and intolerance in Australia – the dark side of the easy going 'g'day mate' nation – Evil Angels did not perform as well as it deserved to at the domestic box office. Another factor to consider is the release of Lindy Chamberlain and the quashing of all convictions on 15 September 1988, just 6 weeks prior to the film's release. Guilt and shame could have deterred many viewers from watching what, owing to the truly astonishing final twist, turned out to have been the truth of the matter. Arguably the best film ever bankrolled by US company Cannon Entertainment (best remembered for Chuck Norris and Charles Bronson pictures), Evil Angels is a highlight of 1980s Australian cinema. Curiously, and then again maybe not, it has never been released domestically on DVD.
Evil Angels was released in Australian cinemas on 3 November 1988. At the 1989 AFI Awards, it won five awards from eight nominations: Best Picture, Director, Actor (Sam Neill), Actress (Meryl Streep) and Adapted Screenplay.