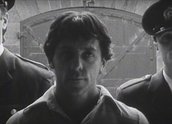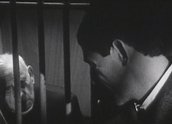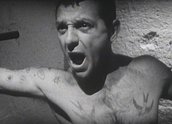 Everynight… Everynight (1994)
Synopsis
Remand prisoner Dale (David Field) is sent to H Division, for notorious offenders, soon after arriving at Melbourne's Pentridge prison. He is savagely bashed on arrival by three prison officers, led by Berriman (Bill Hunter). Officer Gaunt (Simon Woodward) rapes Dale with a baton while Berriman and Kert (Robert Morgan) hold him. The division is run on violence and intimidation. Prisoners may do nothing without permission; any perceived offence is immediately punished with violence. Dale soon loses his desire to challenge authority, but a few prisoners continue to defy.
Barrett (Jim Daly), a long timer who's on the verge of insanity, still endures regular beatings for the sake of a dwindling sense of pride. Bryant (Phil Motherwell), an acknowledged tough guy, enforces a code among the prisoners: no matter what happens a prisoner never talks or complains. At the end of his tether, Dale declares himself free. He 'resigns' from the authority represented by the guards, refusing to wear his uniform or follow orders. He begins to foment rebellion, inciting the other inmates. The prison governor (Jim Shaw) can no longer control H Division. With all 12 prisoners 'resigning', Dale tells the governor that he will be the first to volunteer to speak to the Royal Commission that is coming. The old order is dead.
Curator's notes
Everynight… Everynight came and went without much fanfare in 1994, but it is one of the stronger debut films of the 1990s, and it remains one of the most accurate films yet made in Australia about the abuses possible within an uncontrolled penal system.
The film was based on a play by Ray Mooney, who wrote it while still a student in the Victorian College of the Arts drama program in 1978. Mooney had spent eight years in HM Prison Pentridge, from 1968 to 1975, including four months in the notorious H Division in 1973. He left prison with a university degree in social sciences, the first inmate in Australian history to start and finish his degree while inside. After a successful run at the Pram Factory theatre in Melbourne, Mooney put the play aside to pursue other writing. It was revived onstage in the early 1990s and that production led to the interest of a young director, Alkinos Tsilimidos. A graduate of the VCA film program, he was 28 years old and driving a taxi in order to raise funds.
Ray Mooney: 'I asked him what the budget would be and he said $28,000. I laughed, but you just have to go with somebody when they have that much drive and passion for a project.'
Tsilimidos was determined not to seek government funding, in order to make his first feature without interference. He and Mooney collaborated on a limited rewrite of the play, and the film was shot in about 18 days at the old Geelong prison, which had recently been closed. Mooney says they secured permission to shoot there by telling the authorities that they were making a training film for prison officers. The authorities never asked to see the script.
Mooney believes it was one of the first films made with deferred payments. All of the actors agreed to defer their pay and shooting was completed within the $28,000 budget. Actors Equity, the union, was strongly opposed to the project and tried to convince the cast not to agree. The actors were paid once Tsilimidos got a completion loan from Film Victoria. In effect, Everynight… Everynight was one of the first guerrilla-style films made in Australia. It opened the way for a method of production which is now much more common.
The subject of the film, Christopher Dale Flannery, is called Christopher Dale in the film. He was not well known when the play was written. He became notorious in the 1980s as an alleged hitman, so that by the time the film was made in 1994, audiences had a strong idea of his violent character. Indeed, he had been missing, presumed murdered, for some years.
Mooney says that he was close friends with the young Flannery in prison. Flannery had arrived as an 18 year-old who had already been brutalised at a children's home. Tsilimidos inserted a scene in the film in which a priest visits Dale to ask forgiveness for his abuse (see clip two). That did happen, according to Mooney. The play is based entirely on Mooney's own observations of what happened to Flannery and others while in Pentridge. The title comes from a dream sequence that was more prominent in the play – every night, Dale would dream about what he would do to the prison officers once he was released.
Everynight… Everynight stands out now as a film made without much compromise, a maverick production in the tradition of Pure S (1975) or Going Down (1983). It is shot in black-and-white in a style that resembles German Expressionism of the late 1920s, with hard lighting, little cutting and language that is extraordinarily blunt. There are few concessions to audience expectations. The drama is intense, controlled and confronting, and the characterisations are reduced to essentials. David Field had already appeared in a number of films in which he played aggressive characters, notably Ghosts… of the Civil Dead, another prison drama, from 1988. His performance here is amongst the best of his long career – menacing, defiant, pitiful, like a wounded animal.
The film offers a familiar confrontation between prison officer and prisoner, but with an unusual degree of political sophistication. The prison guards are experts in psychological as well as physical intimidation. Bill Hunter's performance as the leading guard gives a sense of intelligent brutality: he's not simply mean, he's smart and mean, able to spot a prisoner's weakness and exploit it mercilessly. At the same time, none of these prisoners is an angel. To some extent, the film is about the small remnants of humanity left in both the oppressed and the oppressor, as well as the legacy of so much brutality. In a country based on penal servitude, this film deserves to be much better known.
Everynight… Everynight was released in Australian cinemas on 25 May 1995. At the 1994 AFI Awards, it received nominations for Best Director (Tsilimidos) and Adapted Screenplay (Tsilimidos and Mooney). The film played in the Melbourne Film Festival, and won a major prize at the Montréal World Film Festival, for the best first film.