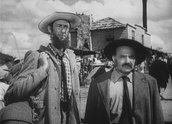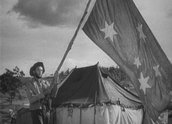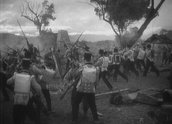 Eureka Stockade (1949)
Synopsis
As thousands of men leave their jobs to search for gold in Ballarat in 1854, the Victorian Governor imposes harsh taxation in the form of a mining licence, to discourage new miners. New arrivals Peter Lalor (Chips Rafferty) and his friend Raffaello Carboni (Peter Illing) join forces with young Scotsman Tom Kennedy (Gordon Jackson) to work a claim. Lalor befriends the schoolteacher Alicia Dunne (Jane Barrett) as hostilities break out between miners and police. After the murder of a miner in a drunken brawl, Lalor calms the mob. He tries to negotiate better terms but the Goldfields Commissioner, Mr Rede (Jack Lambert), is under strict orders to quell the miners.
The miners riot and burn down Bentley's Hotel, after Bentley (Ronald Whelan) is acquitted of the murder. The governor sends in troops to suppress the miners, who begin to organise under a new flag, featuring the Southern Cross. Lalor, Carboni and Kennedy take up arms against increasingly violent government troops. On a hill on the Eureka gold lead, they build a flimsy stockade to resist attack. Early on Sunday morning, 3 December 1854, the troops attack. The miners are routed, with many men killed. The wounded Lalor escapes to a safe house, but loses an arm. As his wounds heal, the government agrees to the miners' demands for reform. Peter Lalor decides on a career in politics.
Curator's notes
When it was begun, under difficult conditions in late 1947, Eureka Stockade was a rousing political tract about freedom and democracy, crafted by a leftist British director at the top of his game. Harry Watt had had a major success with his first film about Australia, The Overlanders, released in 1946. Australia was under a Labor government that encouraged filmmaking. The government gave Watt every assistance. By the time it was released, Labor was in trouble and Robert Menzies was running a vehemently anti-Communist crusade that would see him elected in December of 1949. Eureka Stockade had become the wrong film at the wrong time, at least for some. The film flopped, but not just in Australia. Even with the backing of the Rank Organisation in the UK, its returns were disappointing.
It remains a fascinating failure, partly because of the miscasting of Chips Rafferty as the Irish rebel Peter Lalor. What it does extremely well is to give a largely factual account of the uprising, based on solid research. It's also extremely well crafted, by a director of considerable skill. It probably helped to raise the standards of filmmaking in Australia, because Harry Watt saw that as part of his role. The box-office failure hurt its reputation, and it remains an underrated entry in Australian cinema history.
It was a huge and prestigious production for the time. Harry Watt was riding high when he suggested the project to Sir Michael Balcon, head of Ealing Studios. Watt had been sent to Australia in 1944, to search for a story that would publicise Australia's war effort. The Australian government felt that British propaganda was doing nothing to represent Australia's efforts. The result was The Overlanders (1946), Watt's brilliant recreation of a wartime cattle drive across northern Australia. The war was over by the time it was finished, but the film was enormously popular, in Australia and Britain. Harry Watt wanted to stay longer in Australia, so he pitched the idea of a feature film about one of the great defining events in Australian history – the miners' resistance in Ballarat in 1854, known as the Eureka Stockade.
Ealing Studios, since 1944, had been owned by the Rank Organisation, Britain's largest movie conglomerate. Both companies, on separate missions to Australia, had tried to interest the Australian exhibition company Greater Union, headed by Norman Rydge, in an Australian production partnership. Rydge turned them down, for reasons that are still contentious. He was concerned about his company's ability to finance expensive film production, when the company could more easily rely on exhibition – based on a good supply of foreign films, now that the war was over.
Greater Union had been persuaded to invest in Charles Chauvel's Sons of Matthew (1949), which would go badly over budget in 1948, but Norman Rydge first rejected Rank's offer early in 1947, when production of that film had only just begun. Rank had purchased half the shares in Greater Union Theatres in early 1946. Ken G Hall, head of Cinesound, owned by Greater Union, went to England in late 1946 to make plans for an ambitious Australian production slate, financed by Rank. In their book Australian Cinema: The First 80 Years (1989, Currency Press), Graham Shirley and Brian Adams write that Norman Rydge and the Greater Union board were already getting cold feet by the time that Hall returned to Australia.
In April 1947, the British government tried to halt the increasing domination of the UK market by American film interests by proposing a 75% tax on the earnings of films imported to Britain. That was enough to make Greater Union back out of the deal with Rank. The British tax was never fully implemented, but it had a major impact in Australia. In effect, it killed Ken Hall's plans to resurrect Cinesound as a producer of feature films. The once mighty Cinesound became a newsreel and documentary outfit after the closure of their lab and the sale of the Bondi studio, where many of the classic Cinesound films of the 1930s were produced.
The British tax also put a halt on pre-production for Eureka Stockade. Harry Watt had spent six months researching the story: comparing all of the written accounts, visiting Ballarat to talk to the descendants of some of the original miners and amassing detailed material about life on the goldfields. The Australian government agreed to loan hundreds of army personnel to work as extras and production staff. Watt selected Singleton, north-west of Sydney, as the site for a large-scale re-creation of Ballarat and the goldfields. He was a few weeks away from shooting when the British government announced its new tax. Production halted. Watt later wrote:
For ten weeks we sat and fretted while complicated arguments went on at home with the Board of Trade. At last a formula was reached whereby, by importing some more artists and technicians, we could become a British film on location. But that initial knock started a run of bad luck from which we never quite recovered. In fact, we more nearly came a 'gutser' on Eureka than any film I've ever worked on.
'You Start from Scratch in Australia', by Harry Watt, published in the Penguin Film Review, 1949, reprinted in An Australian Film Reader (1985, Currency Press).
One of the biggest compromises was in the casting of Chips Rafferty. Watt had helped to make him an international star in The Overlanders two years earlier. The Rank Organisation put him under contract and they insisted that he played the lead in Eureka Stockade, against Watt's wishes. In the film, Lalor is very much an Australian archetype, as Rafferty always played, but Peter Lalor was an Irish-born Catholic, whose father had been a British Member of Parliament. The family were landowners, but politically active. Peter Lalor's oldest brother was an Irish revolutionary who took part in two rebellions during 1848, when Peter was aged 21. Peter and his brother Richard migrated to Australia four years later, in 1852. We may doubt that he was much like the man that Chips Rafferty portrays.
The bad luck that Watt refers to above was partly climatic. There was so much rain in the first five weeks of the schedule that they could only shoot for five days. Shirley and Adams wrote: 'Roads turned into quagmires, the miners' tent city was twice blown to the ground and Chips Rafferty broke two ribs in fight scenes, then burned his hands in a fire rescue'.
Earlier that year, torrential rains had nearly wrecked Charles Chauvel's location shooting in southern Queensland on Sons of Matthew (1949). These were the two biggest films made in Australia during the 1940s, and both were plagued by floodwater. Eureka Stockade, according to Shirley and Adams, had a budget of nearly £200,000, almost twice what Chauvel spent.
Eureka Stockade took six months to film. The interiors were shot at the refurbished Pagewood studio in Sydney, now owned by Ealing. The film was released in London in January 1949 and in Australia in May 1949. It was not a success. An abridged version opened in the US, re-titled Massacre Hill, in late 1950.
Even after that failure, Ealing Studios was still committed to making films in Australia. They began production in May 1949 on Bitter Springs (1950), directed by Ralph Smart, who had been at Harry Watt's side during the making of The Overlanders (1946) and Eureka Stockade. This film too was struck by heavy rain, on location at Quorn in South Australia.
Back in England, Harry Watt wrote with optimism about his hopes for continued Ealing production in Australia:
The real physical labour involved in making films in Australia is almost unbelievable compared to present day filming here (Britain), and maybe I'm a bit obsessed with it. Although I'm dog-tired of it, I wouldn't have missed it for worlds. And it's been worth it. We have started to put Australian films on the screens of the world. We've raised the pay of both technicians and actors in Australia by about 100%. And we've given creative work to a lot of people who otherwise were smothering with frustration … Ealing is continuing. Local feature production is on the increase. Most of this, unhappily, is of very poor quality and does more harm than good. But there are immense film potentialities in Australia and a lot of good stories.
How wrong he was. In December 1949, Australians threw out the Labor government headed by Ben Chifley. The new conservative government headed by Robert Menzies was less interested in promoting Australian film, or British films made by left-leaning directors like Harry Watt. In Sydney in 1946, Watt had assisted the Dutch director Joris Ivens on the secret production of Indonesia Calling, a controversial propaganda film in favour of Indonesian independence. Watt's role had been noticed.
The threat of communist infiltration was a major issue in 1949 in Australia, as in the US. Robert Menzies was elected partly because of his strong opposition to communism. It is difficult to know if the Menzies government opposed the idea of Australian filmmaking, or just the idea of films made in Australia by British leftists. They certainly did nothing to help Ealing's ambitions. In mid-1951 the Department of National Development outlawed the formation of public companies with capital of more than £10,000, effectively scuttling what was left of Ealing's Australian filmmaking ambitions. In January 1952 Ealing announced that it was closing the Pagewood studio. It was sold a year later to Associated TV. The Australian film industry entered the doldrums that would last for most of the next 20 years.