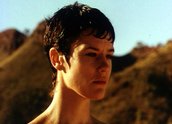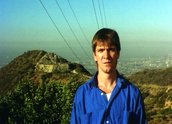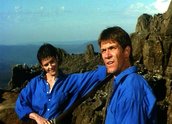 Epsilon (1995)
Synopsis
An old woman (Alethea McGrath) recounts a story to her granddaughters (Chloe and Phoebe Ferguson) about a man (Syd Brisbane) that she met many years before. He told her about an experience that changed his life. He was camped in the desert, working as a surveyor, when a naked woman (Ulli Birvé) walked out of the darkness, wanting to know where she was. Discovering that she was on earth, she became angry. She said she was from Epsilon, one of the stars of the Southern Cross.
While she waits to be rescued she tells the surveyor what's wrong with earth, how stupid its inhabitants are to be killing their own planet, and that the rest of the universe despises them. He starts to believe her when she is able to transport both of them through time and space at will, to wherever she wants to go (but only on earth). They visit a series of cities and wildernesses, trying to understand each other. He begins to fall in love. She just becomes frustrated with the stupidity of the human race, so she resorts to extreme measures. He calls off the relationship and they part. She returns to an earlier time and stops the break-up. They are planning a life together when she is called back to Epsilon. The man becomes a legendary conservationist, known as 'the man of the stars'.
Curator's notes
Epsilon is a grand experiment, even by the standards of Rolf de Heer, who is the most experimental director of the modern era in Australian cinema. It's an attempt to create a metaphysical drama about the need to save the planet with an ambitious visual experiment in motion control camera. De Heer has said he got the idea 'like a bolt of lightning' after seeing some extraordinary motion control and time lapse footage created by an Adelaide firm, Digital Arts Film and Television. 'I had been wondering loosely how you'd go about putting actors in those pictures, how you'd synthesise more mainstream drama with those amazing images.' The process was more difficult than he imagined, but the results are visually stunning, especially in the series of circular time lapses that dominate the first half.
Many of these scenes were filmed in the Flinders Ranges, where de Heer would later film The Tracker (2002), but the production also filmed in spectacular locations in other states, such as Tasmania. There is a strong thematic connection with de Heer's earlier film Bad Boy Bubby (1993). Both have a similar premise – the arrival of an exotic stranger who has no experience of the world he or she has entered. Bubby arrived from 35 years of abuse as a child-man, an innocent in a mean city; the woman in Epsilon comes as an infinitely superior being who knows way too much about the earth and doesn't like it much, especially not the earthlings who are destroying their home. Both can be seen as a metaphor for the experiences, both traumatic and comedic, of a new migrant in Australia – which de Heer once was, having arrived with his parents from the Netherlands at the age of eight, in 1959. The difference in style between the two films could hardly be greater, though: Bubby is a satirical pageant fuelled by acute observations of an uncivil society; Epsilon is a romance of sorts, a lament for the most ancient landscape on earth, in which a man and a woman try to achieve balance – both within themselves and with their surroundings. Some of the dialogue and situations in Epsilon are improvised, which is a technique de Heer often uses in his films, although usually with greater control.
The film is certainly daring, although never completely engaging on a dramatic level. It was reshaped, with the outside enveloping story of the grandmother and the granddaughters added after initial private screenings in Cannes in 1995. A new ending was added and ten minutes shaved from the running time. The film opened in Australia in late February of 1997, but audiences were disappointing.