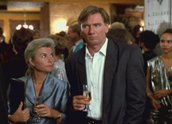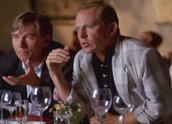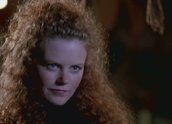 Emerald City (1988)
Synopsis
Successful screenwriter Colin Rogers (John Hargreaves) moves from Melbourne to Sydney with his publisher wife Kate (Robyn Nevin) and their children, Sam (Haydon Samuels) and Penny (Ella Scott). When his latest screenplay is rejected by producer Elaine Ross (Ruth Cracknell), Colin starts working on a TV mini-series with Mike McCord (Chris Haywood), a hustler more interested in money and deals than artistic merit.
When their project, Coastwatchers, bombs in the ratings, Colin becomes infatuated with Helen Davey (Nicole Kidman), Mike's much younger girlfriend. Kate says Colin is being adversely affected by moving from the more serious and cultured climate of Melbourne to the crass commercialism and empty glamour of Sydney. Worried about his age and writing ability, Colin contemplates an affair with Helen.
Curator's notes
Film production in Australia in the '80s is remembered as the decade in which 'hustlers' and 'cowboys' such as Mike McCord in Emerald City churned out dozens of movies that had little to do with artistic merit and everything to do with financial wheeling and dealing. With extremely generous tax concessions attracting investors who had not previously been involved in the business, the 1980s was a boom time for the Australian film industry.
Australia's most successful contemporary playwright and writer or
co-writer of film classics including Gallipoli (1981) and Don's Party (1976), David Williamson was perhaps better qualified than anyone to cast his satirical eye over the state of the Australian film industry at this time. The 1987 production of his play, Emerald City, had been a major hit and seemed like a natural for screen adaptation.
Williamson adapted his play for the screen but during filming the principal cast members insisted on restoring much of the play's dialogue which had been excised. Faced with a potential mutiny, director Michael Jenkins felt he had little option but to accept the changes.
The result is a spotty film. There are many wonderfully acerbic observations about the ultra-commercial side of filmmaking (see clip two), but with so much extra dialogue to fit into the original script, the actors frequently deliver lines in the rapid-fire style of an old Hollywood screwball comedy. Such a style does not suit the dialogue very well and some of the humour is lost along the way.
Both play and film adaptation explore two major themes. The first is the longstanding rivalry between Sydney and Melbourne. Scriptwriter Colin Rogers (the character is loosely based on Williamson) and his publisher wife Kate represent serious and intellectual Melbourne, where artistic merit is paramount. Colin's reptilian producer, Elaine Ross, hack writer Mike McCord and Mike's calculating girlfriend Helen (Nicole Kidman, just prior to hitting the international spotlight in Dead Calm, 1989) are imbued with Sydney's reputation for being obsessed with property values, water views and celebrity glamour: 'New York without the intellect', as Kate puts it (see clip one).
The other central theme is ageing. Colin is painfully aware that despite his status as Australia's most acclaimed and successful screenwriter, he is getting older. Colin is worried about his future, especially in Sydney where he has made a rocky start with the ratings failure of Coastwatchers (see clip three).
Emerald City does have its spiky charms and is worth a look for its contribution to the eternal Sydney vs Melbourne debate. It was released in Australian cinemas on 9 December 1988 and nominated for five AFI Awards in 1989: Best Actor (Hargreaves), Supporting Actress (Kidman), Adapted Screenplay (Williamson) and Cinematography (Paul Murphy), with Chris Haywood winning the prize for Best Supporting Actor.