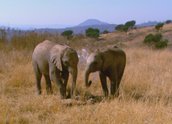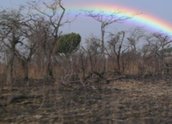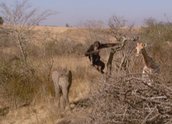 Elephant Tales (2006)
Synopsis
Life on the wild plains of Africa is wonderful for Zef (voiced by Jono Wood) and his younger elephant brother Tutu (voiced by Emily Hunt) until they find themselves orphaned by hunters (named 'The Badness'). Zef comforts Tutu by saying that a rainbow has taken their mother up into the sky and Tutu is determined to find her. On their journey to find a new herd, they are joined by three other orphans: Chump the chimp (voiced by Patrick Floersheim), a giraffe called Stretch (voiced by Annie Lindner) and a lion cub prince called Cub (voiced by Michael Kumnick). The adventurers meet playful zebras, a singing vegetarian vulture and a creepy crocodile, and face storms, fire and an encounter with the Badness. Zef and Tutu's brotherly love is tested but they ultimately learn the meaning of family, that 'courage comes in all sizes', and although not in the way Tutu expects, the rainbow does lead them home after all.
Curator's notes
Elephant Tales provides a good example of storytelling within the long tradition of anthropomorphism in films for children. By embodying human flaws, foibles and positive qualities in appealing and non-threatening animals, the filmmakers provide viewers with a greater understanding of human psychology and behaviour. This tradition reflects children's often special relationship with animals and their ability to empathise with them. The popularity of this enduring tradition can be seen in many other movie releases such as the Narnia series (2005–2010), Babe (1995) and Happy Feet (2006).
The film is written, produced and directed by Mario Andreacchio, who won an Emmy Award for Touch the Sun – Captain Johnno (1988). In addition to Elephant Tales, Andreacchio has directed a variety of children's television programs and feature films, many of which feature real animals. Napoleon (1995) stars a Golden Retriever and The Real Macaw (1998) features a talking parrot. His latest film, Australian-Chinese co-production The Dragon Pearl (2011), premiered in China in 2011.
Elephant Tales is an Australian-French co-production, shot entirely on location in South Africa with a cast of real animals, such as cheetahs, elephants, giraffes, chimps and a lion cub. In an innovative distribution deal the film was released in zoos and sanctuaries in Australia and New Zealand via Zoos South Australia, with a percentage of the profit from merchandise sold going towards animal conservation projects.
Elephant Tales was released in France on 25 October 2006 and Adelaide on 5 April 2007. It also screened at the Tribeca Film Festival in New York on 28 April 2006.