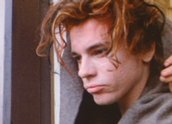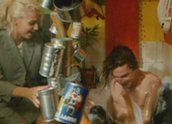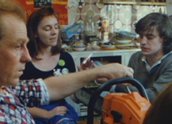 Dogs in Space (1986)
Synopsis
Melbourne, 1978. A large group of young people share a dilapidated house in the inner-city suburb of Richmond. Sam (Michael Hutchence) sings in the rock group Dogs in Space. His girlfriend, Anna (Saskia Post), works in a nursing home and has ambitions of becoming an airline stewardess. Tim (Nique Needles) plays electronics in Dogs in Space, and Luchio (Tony Helou) is studying for engineering exams. The house is frequented by dozens of friends and acquaintances who share a common interest in music. An unnamed teenage runaway (Deanna Post) moves in without anyone objecting. Sam and Anna's happy relationship begins to change when hard drugs enter their lives. Following another wild party at the house, tragedy strikes.
Curator's notes
Anyone who wants to know what the late '70s punk-new wave scene was like in Melbourne, or just about any other comparable western city for that matter, need look no further than Dogs in Space. Like Julien Temple, the British filmmaker who immersed himself in London's punk rock world and emerged with the Sex Pistols movie The Great Rock'n'Roll Swindle (1980), writer-director Richard Lowenstein based much of the screenplay on personal experiences and observations during his years hanging out with people like Sam, Anna and the rest of the film's large roster of characters. Many of the musicians Lowenstein associated with and filmed during this period – Primitive Calculators and Thrush and the C**ts among them – can be heard on the soundtrack alongside the original score composed by Ollie Olsen. The driving force behind key Melbourne act Whirlywirld, Olsen also performs the band's best known track, 'Win/Lose', in a party scene.
Following a string of music videos for bands including INXS and Hunters and Collectors ('Talking to a Stranger' by H&C remains a high point in the annals of Oz rock clips), Lowenstein made a strong impression with his first feature, Strikebound (1984), a finely crafted period piece set during the coalminers' strike in Victoria in the 1930s. Dogs in Space could not have been more different. Authentic to the core, it captures all the energy and excitement of punk rock music and the do-it-yourself attitude it inspired. Whether discussing what to wear to a gig or railing against Australia's conservative government of the day (see clip three) there is an exuberance to these young people who wear poverty and their rejection of the status quo as badges of pride.
Anyone who's ever lived in or been part of a big share house community in the inner city, regardless of the era, will recognise the character types that drift through the frame and feel that at least some part of their own life is accurately reflected on the screen. There's Luchio, the diligent engineering student battling to study in the middle of chaos; Barbara, the idealist who talks like a socialist party pamphlet (see clip three); Chainsaw Man, the weirdo who doesn't seem to fit in this scene at all; and the waif-like stranger (she'd be called an Emo girl now) who shows up out of the blue and is taken in like an orphan.
Although light on plot, Dogs in Space has a powerful emotional centre in the relationship of Sam and Anna. In his only lead role in the three films he made – Frankenstein Unbound (1990) and the never-released Limp (1999) are the others – Michael Hutchence is incredibly charismatic as mumbling, childlike Sam who becomes a different being once he's performing for the crowd. The winning chemistry between Hutchence and Saskia Post brings a wonderfully innocent quality to their love affair (see clip two) that begins so sweetly before taking a dark turn.
For all its scenes of drug taking, Dogs in Space is a moral film that shows the reality of young people's lives and never endorses drugs as a positive lifestyle choice or the answer to anything. The drug-related death scene towards the end of the movie confirms this. Superbly realised in dream-like images set to Iggy Pop's spine-tingling 'The Endless Sea' and climaxing with a visual metaphor remarkably similar to that used by Alex Cox in the punk romance Sid and Nancy (also 1986), this powerhouse sequence shows that drug use has not just taken a young life, it has destroyed the golden glow around a carefree community.
Australian censors did not take the same view in 1986. Dogs in Space was given an 'R' (restricted to audiences 18 and over) certificate for showing drugs to be 'a pleasant adjunct to daily life'. With its core target audience unable to see the film, Dogs in Space did not perform well commercially but has since built up a sizeable international cult following. For its DVD release in August 2009, Dogs in Space was reclassified with an MA15+ rating.
Dogs in Space was released in Australian cinemas on 18 December 1986.