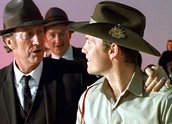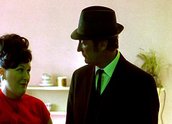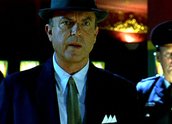 Dirty Deeds (2002)
Synopsis
Sydney, 1969. Barry Ryan (Bryan Brown), affable family man and gangster, controls most of the city's booming poker machine trade, when the US mafia decides it wants to take over his patch. Barry's nephew Darcy (Sam Worthington), just back from serving in Vietnam, joins his uncle's crew as the bullets start flying. Hoping to avoid a war, Ryan invites the two mafia emissaries on a pig-shooting trip to the outback. Tony (John Goodman), older and wiser of the two, wants to make a deal, but hothead Sal (Felix Williamson) prefers to shoot people. Barry's wife Sharon (Toni Collette) helps her husband decide what to do.
Curator's notes
Dirty Deeds was an ambitious project – an attempt to make a modern, mainstream gangster film, but in a vernacular Australian style. The period setting points to the film's underlying questions about Australia's cultural identity – it is about the point at which Australia's relationship with the US is about the change forever.
The young character Darcy has returned from taking part in the US-led war in Vietnam. He declares that the US won't win that war, because they would have to kill every man, woman and child in Vietnam. Barry Ryan's own campaign against US aggression becomes a kind of guerrilla war too, in which John Goodman's character comes to the same conclusion – Australian crime is too hard to penetrate because they're all in it together. At the same time, the film suggests that the tide of Americanisation was nevertheless irresistible – these characters haven't even heard of pizza. Modern audiences under a certain age in Australia probably found it difficult to believe that there was a time when we didn't have pizza.
The film was partly inspired by an infamous photograph, which shows a prominent Sydney criminal, the late Lennie McPherson, on a pig-shooting trip with two American mafiosi in Northern NSW in the late 1960s. The plot is a supposition, based on extensive research, rather than fact. The Roosevelt Club did exist, but it was closed down in 1944, for example. The influx of money that came with American servicemen on leave – in both the Second World War and the American war in Vietnam – had far-reaching effects on Australian crime, though, especially in the drug trade in the late 1960s in Kings Cross, the area in which the first half of the film is set.