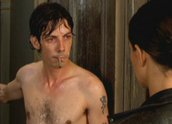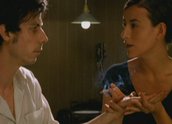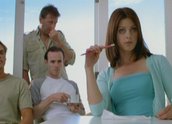 He Died with a Felafel in His Hand (2001)
Synopsis
Aspiring writer Daniel 'Danny' Kirkhope (Noah Taylor) has lived in 46 share households. At house number 47 in Brisbane, he moves in with Flip (Brett Stewart), a nerd; Sam (Emily Hamilton), an icy English intellectual; couch potato Jabber (Haskel Daniel); Taylor (Alex Menglet), a paranoid urban survivalist; and Anya (Romane Bohringer), an alluring European vegetarian. Fleeing to Melbourne after the house is trashed, Danny shares with Iain the socialist (Ian Hughes). Sam, whose lesbian relationship with Anya has faltered, follows Danny south. Pursued by debt collectors, Danny heads to household number 49 in Sydney. Living with bulimic, self-obsessed actress Nina (Sophie Lee) and neurotic gay guy Dirk (Francis McMahon), Danny is soon joined by Sam, Flip, Taylor and Anya. Unhappy with his lot and desperately needing cash, Danny's hopes rest in getting a story published in Penthouse men's magazine.
Curator's notes
Writer-director Richard Lowenstein was the ideal choice to adapt John Birmingham's popular 1994 novel about a young writer trying to find direction and romance while drifting from one share household to the next. Lowenstein had handled similarly themed material with distinction in Dogs in Space (1986) and proved adept at reshaping Birmingham's non-linear work set in 13 houses into Danny's chronological progression from Brisbane to Melbourne and finally Sydney.
He Died with a Felafel in His Hand is a darkly humorous look at characters and incidents that will strike a chord with just about anyone who's lived in a group house. The places Danny passes through reflect the character of the cities in which they're located. In Brisbane he resides in a typical 'Queenslander' house, built on stilts and surrounded by vegetation. The days are long and hot, and it's the kind of sub-tropical environment in which a guy like Taylor will go troppo and set fire to the kitchen sink (see clip one). Melbourne is cold and grey, a much more serious city where political types such as Iain the socialist can be found. Danny's Sydney house is noticeably more upmarket, a comment on the flaunting of wealth and brash confidence that's more prevalent in this Australian city than any other.
Though many of the situations are amusing there is a strong streak of melancholy in Danny's misadventures. No longer in his first flush of youth, Danny is a profoundly lonely man who disguises his lack of motivation and output (he's a writer who barely writes) in theoretical double-talk and by casting himself as some sort of non-conformist writer in the tradition of Jack Kerouac, whom he frequently quotes. Even when Anya sees through his façade (see clip two), Danny remains passive and self-deluded. Yet he remains a likeable loser, thanks to the fine central performance of Noah Taylor (from The Year My Voice Broke, 1987; Shine, 1996; Lara Croft: Tomb Raider, 2001). With a remarkable face that can appear 25 one moment and 40 the next (he was aged 32 at the time), Taylor captures the boy-man and man-boy that Danny has become.
Inevitably it's the women in Danny's life who eventually jolt him out of stagnation. Well played by French performer Romane Bohringer and British TV actress Emily Hamilton, Anya and Sam are the muses who inspire Danny to reveal emotions he's long suppressed. The other standout cast member is Sophie Lee as self-obsessed Nina. Stealing every scene she's in, Lee is hilarious as the neurotic nerve case whose control-freak proclivities (see clip three) significantly up the film's tempo in the final third. Nicely shot by Lowenstein's regular cameraman, Andrew de Groot, the film often utilises overhead shots to give a sense of Danny and his many housemates being observed like animals in a science lab experiment.
He Died with a Felafel in His Hand was co-produced by Fandango, an Italian company involved with Australian features including Bad Boy Bubby (1993) and Ten Canoes (2006). The first line in the end credits reads 'For Michael (1960–1997)', referring to Michael Hutchence, the late Australian rock singer and star of Lowenstein's Dogs in Space.
He Died with a Felafel in His Hand was released in Australian cinemas on 30 August 2001. It was nominated for Best Adapted Screenplay at the 2001 AFI Awards and Best Score at the IF Awards.