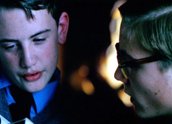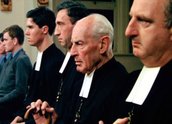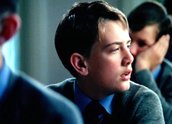 The Devil's Playground (1976)
Synopsis
Tom Allen (Simon Burke) is a 13-year-old postulant at a Catholic seminary outside Melbourne. It is 1953, when boys still began training for religious orders in their early teens. Tom is constantly in trouble – for wetting his bed, showering in the nude, being late. He spends long hours in the chapel, praying for guidance, but his impure thoughts terrify him.
The priests and brothers who teach him struggle with their own desires, and argue about the need for repressive discipline. Most of them, staff and boys, have doubts about their vocation. Through the loneliness, fear and shame, Tom begins to ponder his future.
Curator's notes
The Devil's Playground was a deeply personal debut film for its director, Fred Schepisi. He had spent unhappy years in a Catholic seminary in the 1950s, and the film reflects the depths of his feelings about the experience.
Schepisi enlisted the help of another ex-seminarian, the novelist Thomas Keneally, to write the script, but the film is far from being bitter, or unsympathetic to the religious characters. In fact, it's cleverly constructed to reflect the similarities in the daily lives between boys and staff. Each group lives a highly structured life, almost devoid of female company, or any possibility of physical tenderness. If anything, the boys enjoy more freedom than the brothers, but the extreme denial of the flesh produces extreme reactions, as in the secret society in which a group of boys practice sado-masochistic rituals to try to achieve a 'higher spiritual state'. Tom Keneally appears in the film as Father Marshall, a monk who is, by turns, kindly and jovial, then terrifying in his descriptions of the fires of hell.
The film was shot for just over $300,000, half of which was Schepisi's own money, which he accrued from making commercials. No local distributors were interested in releasing the film, so Schepisi released it himself, to reasonable success and good reviews. His next film, based on Keneally's novel The Chant of Jimmie Blacksmith was a bigger critical success. It established Schepisi as one of the leading directors of the new wave of Australian cinema.