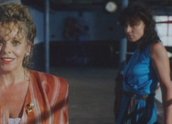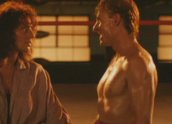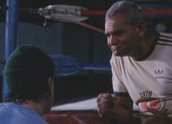 Dead to the World (1991)
Synopsis
Alexandra (Agnieszka Perepeczko) owns a boxing gym in the inner Sydney suburb of Newtown. Her fierce rival is Pearl Wilkinson (Lynette Curran), a corrupt local businesswoman and political candidate. Pearl is in league with Keats (John Doyle), a shady property developer who is determined to acquire Alexandra's building by any means. Paula's campaign to discredit Alexandra and her boxers coincides with the return of Johnny (Richard Roxburgh), a troubled ex-fighter and former lover of Alexandra. With local cop Jack (Paul Chubb) also in his pocket, Keats enlists Paula's brother Bobby (Paul Goddard) to threaten Alexandra. As the turf war escalates, Johnny and Alexandra's star welterweight, Manny (Tibor Gyapjas), enters the fray.
Curator's notes
Dead to the World is the first feature directed by Ross Gibson, a noted author, multimedia artist and academic whose film works include Camera Natura (1986), a highly praised documentary about representation of Australian landscape in print and cinema. A boxing drama set in the inner-city suburb of Newtown, Dead to the World is an intriguing update of Nicholas Ray's western classic Johnny Guitar (1954). Starring Joan Crawford as a gambling house owner and Mercedes McCambridge as the hysterical leader of 'decent folks' who want to run Crawford out of a frontier town, Ray's film was a thinly veiled attack on the anti-communist witch hunts of the era and the dangerous mob mentality that accompanied them.
Opening with a quote from Christopher Marlowe's c1591 play The Jew of Malta – 'Why, is not this a kingly kind of trade, to purchase towns by treachery, and sell 'em by deceit' – Gibson targets big city property development and corruption in high places as the life-and-death battle between gym owner Alexandra and ruthless political hopeful Pearl plays out. Formerly an unfashionable working-class area with a high migrant population, Newtown provided the perfect backdrop for the themes Gibson explores. At the time of filming Newtown was experiencing a property price boom and has since become a highly desirable residential location. The area also had a strong connection with boxing via the famous Ern McQuillan Gymnasium that once stood in Newtown (see Fighting Blood, 1951). A prominent figure in fight circles for over half a century, McQuillan trained many Aboriginal boxers including Tony Mundine, the only Australian to hold national titles in four weight divisions.
From the opening shot of Pearl's ostentatiously bejewelled hand leafing through archival photographs of key Newtown landmarks – the first of which is Alpha House, a bohemian hangout for artists and musicians in the '70s and '80s that was converted to fancy apartments in the '90s – Dead to the World is about class warfare. Pearl and her shadowy sponsor Keats regard Alexandra's boxers as undesirables and her gym as a blight on a prime stretch of real estate that ought to be occupied by well-heeled residents (see clip one). Played by John Doyle, a radio and TV host known as 'Rampaging Roy Slaven' on the long-running ABC radio hit This Sporting Life (1986–2008), Keats is a fascinating character whose flowery language and crisp enunciation carry the air of a villain from the era of Marlowe and Shakespeare.
On the other side of the moral divide sit Alexandra and Johnny. A migrant battler in a man's world, Alexandra (Polish-born Agnieszka Perepeczko) represents decency in a place overrun by the likes of Keats, Pearl, and Jack, a local cop played by much-loved character actor Paul Chubb. The wild card in the mix is Johnny, Alexandra's former lover. In his first feature film role, an extremely fit Richard Roxburgh (see also In the Winter Dark, 1998; Moulin Rouge!, 2001) plays the scarred fighter dreaming of 'one last shot' – not at glory in the ring but at lasting love with Alexandra (see clip two). As with the eponymous hero played by Sterling Hayden in Johnny Guitar (1954), it is only a question of time before his violent past returns to haunt him.
Beautifully filmed by cinematographer Jane Castle, and with small roles for beloved film critic John Hinde as a newspaper editor and Noah Taylor as young pug Skip (see clip three), Dead to the World is a strong addition to the relatively small stable of Australian boxing dramas that includes Come Out Fighting (1973), Two Fists, One Heart (2008) and The Tender Hook (2008). Distinguished by camerawork, production design and performances that lend an atmosphere of heightened reality to proceedings (for example, star welterweight Manny making his arrival with a breakdancing routine in clip one), Gibson's screenplay is at the same time finely tuned to the stark facts of life in and out of the ring. Nowhere is this better demonstrated than in a wonderful scene in which Alexandra's veteran assistant Lester tells Skip about the cruel twist of fate that snatched defeat from the jaws of victory (see clip three). Little seen since it was launched at the 1991 Melbourne Film Festival, Dead to the World is a punchy item deserving of a greater audience.