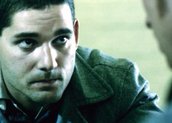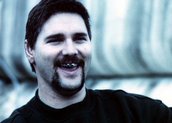 Chopper (2000)
Synopsis
In 1991, Mark 'Chopper' Read (Eric Bana) is in jail watching himself on television. He has become the most famous criminal in Australia, a standover man who claims to have robbed and killed only drug dealers and other criminals. The action then shifts to Pentridge Prison in 1978, where a younger, thinner Read establishes his reputation in jail by the vicious stabbing of Keithy George (David Field), a member of the much feared criminal gang associated with the Victorian Painters and Dockers Union. The prison governor, Mr Beasley (Fred Barker) warns Read that they have put a contract out on him, but Read is dismayed when his best mate, Jimmy Loughnan (Simon Lyndon) stabs him seven times. Loughnan claims at his subsequent trial that Read attacked him first.
By 1995, Read is out of jail – a police informant, paranoid because of all the speed he's taking, but still living at home with his dad. He shoots a drug dealer called 'The Turk' outside a nightclub in St Kilda, but the police refuse to believe him. He shoots an old associate, drug dealer Neville Bartos (Vince Colosimo), then drives him to hospital. He threatens his old mate Jimmy Loughnan, who's back on heroin, with a gun, then apologises. The police eventually arrest him for the murder of the Turk. He is acquitted, but gets five years for other offences, and returns to jail. By 1991, his first book about his own life has sold 250,000 copies. He's a celebrity, but still alone and in jail.
Curator's notes
The killer who feels no remorse is a movie cliché, but Chopper is about a killer whose remorse is as strong as his initial desire to wound, a much more interesting basis for a drama. Every time he hurts someone in the movie, he becomes immediately regretful and worried about their safety. 'You alright Keith?' he asks Keithy George (David Field) after stabbing him nine times in the face in H Division, the most notorious wing of Pentridge Prison.
The contradictions were part of what made the character so appealing for audiences: Read was unlike any previous Australian screen outlaw (and there have been plenty to choose from). Eric Bana's star-making performance starts from the premise that Mark Brandon Read is, in some respects, a 'normal bloke'. 'I'm just a normal bloke who likes a bit of torture,' he says in the television interview that begins and ends the film, a comment that amuses him greatly. Bana then begins to show what Read means by 'normal', with a series of violent attacks that often come from no provocation. Violence for Read is normal. We get very little information about the character's early life, but there's a scene where he sits down for a beer with his father, that suggests what his childhood might have been like. Old man Read is an intimidating bully with a mean sense of humour and great reserves of hatred. At the same time he has hung a banner in the lounge room to say 'Welcome home Mark'.
The film is partly about the way that Read sets out to make a legend. His early exploits at Pentridge show both his intelligence and his arrogance. Killing Keithy George makes him the most feared man in H Division. He does it partly to achieve that aim, to show the rest 'who's running the division'. He then expands his ambitions: to become a media star among criminals once he's out. This idea runs back a long way in gangster movies, notably to Jimmy Cagney's performance in Public Enemy (1931), but Bana's performance seems at least partly to be influenced by Robert de Niro's more modern gangsters, in the films of Martin Scorsese.
At the same time, Chopper Read is a very Australian kind of criminal, in the way he uses language and humour. The film's most interesting relationship is between Read and Jimmy Loughnan, the 'best mate' who stabs Chopper seven times, in retaliation for the death of Keithy George. The way that this stabbing is filmed suggests that a physical intimacy exists between the two men in jail (despite Read's distaste for homosexuals). The subsequent trial, in which Loughnan defends himself, is played for comedy by both characters. It's just a tiff between two men with a great deal of affection for each other. This affection is important for the film's dramatic balance – it allows us to glimpse a more human side to Read's character.
The film was an astonishing debut for writer-director Andrew Dominik, who spent more than five years researching the life and legend of the character. The movie states clearly at the start that it's not a work of biography. Read himself has said the movie is '100% lies and 100% truth rolled together to make 100% of nothing'. Quite where the movie becomes fictional is hard to pinpoint, since much of what it shows is documented fact. Jimmy Loughnan, for instance, was a real criminal. He died in the 1987 prison fire at Pentridge, in the Jika Jika maximum-security unit. Read did shoot a man known as 'The Turk' outside a St Kilda nightclub, as well as the character known in the film as Neville Bartos. This is not his real name, but the man he is based on later joined Read in some of his travelling stand-up comedy shows, where he would display the scars of Read's attacks. Mark 'Chopper' Read has now written more than ten books, including one for children.