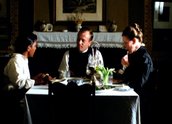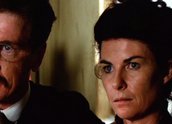 The Chant of Jimmie Blacksmith (1978)
Synopsis
In central-western New South Wales in the 1890s, a young half-caste Aboriginal man raised by missionaries kills most of a family of white farmers, after an argument about his wages. Jimmie Blacksmith (Tommy Lewis) and his brother Mort (Freddy Reynolds) take to the hills with Jimmie's white wife (Angela Punch McGregor) and baby, pursued by the police and vigilante farmers. Jimmie sends his wife back with a message – 'tell them I've declared war'. He and Mort kill again, but Mort is increasingly troubled by their actions. Jimmie goes on alone, until his inevitable capture.
Curator's notes
The Chant of Jimmie Blacksmith, adapted from a 1972 novel by Thomas Keneally, was one of the first Australian features in which the whole story is told from an Aboriginal viewpoint. This is in itself controversial, as neither the writer nor the director is Aboriginal. Tom Keneally has said he would do it differently today, 'It would be insensitive to write from that point-of-view now'. Nevertheless, it is that viewpoint which makes the film as powerful and confronting as it is.
This is one of the key Australian films of the 1970s, because it speaks about the unspeakable. The crimes that Jimmie commits, first with his uncle Tabidgi, then his brother Mort, are literally unspeakable. He murders women and teenage girls, even a tiny child. The depth of rage that the film put on screen was absolutely unprecedented in Australian film at the time (and has never really been repeated). Aborigines in Australian film before this had largely been victims, or romantic versions of the noble savage. The spectre of the violent and vengeful black had barely been touched upon (except for David Gulpilil's role as a bushranger beside Dan Morgan in Mad Dog Morgan), even though there were plenty of examples in Australian history to dramatise.
The power of Keneally's story came partly from the fact that it was based on the true story of Jimmy Governor, who committed the murders as late as 1900, on the eve of Federation. The film offered audiences no comfort zone, which may be one reason it wasn't a great box office hit, but that is a measure of its greatness. It was one of the first films to exceed a budget of $1 million but the director Fred Schepisi does not soften the black violence, or the equally hideous retaliatory violence of whites.
This drama shattered the air of complacency and politeness around the race debate in Australia. It attacked the myth that there was no Aboriginal resistance to white settlement, and it dared to compare different types of violence (Australians fighting in the Boer War, or a hangman killing on behalf of the State). It was an astonishingly bold film in these respects, but a disillusioning experience for its director, who left Australia soon after to work in Hollywood. Schepisi did not make another film in Australia for ten years, when he returned to make Evil Angels (about the Azaria Chamberlain case), a film which in some ways dramatises his disillusionment with Australia.
Secondary curator's notes
by
Romaine Moreton
The Chant of Jimmie Blacksmith, adapted to the screen by Fred Schepisi from Thomas Keneally's book, tells the story of Jimmy Governor, a man born of Aboriginal and Irish heritage. Many discussions about productions such as The Chant of Jimmie Blacksmith focus on the rights of non-Indigenous peoples to tell Indigenous character-driven stories. Because of this, a film such as The Chant of Jimmie Blacksmith is fraught with complexity when discussing the major themes, as well as how such themes are represented in written form, as well as film. For example, the baby of Jimmie (Tommy Lewis) and his white wife is depicted as white, but in real life, the couple did have a baby, and the descendents of Jimmy Governor acknowledge Governor as their ancestor to this day.
While the film is sympathetic to Governor's plight in trying to create a space for himself in white society, he is constantly demeaned on the basis of race. Prominent stereotypes still persist in this film, and they are communicated by white characters such as Teacher, who speaks of the negative aspects of civilization and the corruption of Indigenous culture, presented as the white man's burden. This particular genre of film and the era in which it was made, is a continuation from Jedda, of presenting Indigenous culture as simplistic. This is because white authors are unable to embody Indigenous sensibility, and to convey essential aspects of Indigenous culture that are unique, and imbued with a wisdom that has allowed Indigenous culture to exist for thousands of years.
Films such as The Chant of Jimmie Blacksmith are strictly organised in terms of 'us' and 'them', or 'non-Aborigine' and 'Aborigine', and while true to the era before Federation, there is the possibility that such a story would have been told differently by an Indigenous filmmaker.